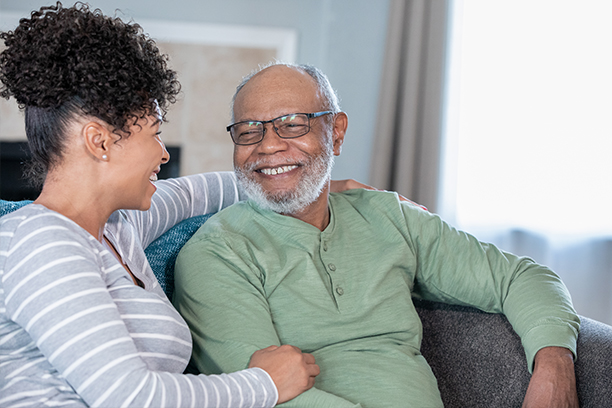 Overnight In-Home Care Assistance for Seniors in Gastonia, NC
The majority of the time, your elderly loved one simply needs assistance for a few hours each day. Having someone there to help and keep them company may be more than enough for many seniors who have trouble doing simple daily tasks on their own because of age-related problems.
However, there are certain elderly people who need around-the-clock care. Families in Gastonia, Cramerton, Kings Mountain, Shelby, Belmont and the surrounding regions face the common problem of needing someone to stay up with a loved one at all hours of the night. If your loved one has any kind of mobility issues or needs assistance getting to the bathroom throughout the night, overnight care may be a good idea.
If you or a loved one ever need overnight in-home care assistance, Visiting Angels Gastonia is here to help. We've spent years assisting seniors and people with disabilities who want to remain in their own homes as they age. Seniors can rest easy knowing that we are there to tend to their every need as the night wears on.
How Seniors Benefit from Overnight In-Home Care Assistance
In many cases, seniors only need assistance during the day. However, there are some circumstances where your loved one may benefit from having a professional caregiver with them at night, including:
Dementia
Someone with dementia may forget to perform simple tasks like turning off the stove or locking the front door before retiring for the night. As part of our in-home care assistance, we can help your loved one establish a regular evening routine and provide gentle reminders to get things done before turning in. And since we focus on individual care, your loved one will always have a kind face to greet them when they wake up.
In addition to this, wandering is a typical symptom of dementia. You should be concerned about the health and safety of your loved one if they have a habit of getting lost at night. Your loved one will be safe in their own home all night because we provide dementia care that includes wandering prevention services.
Chronic Illnesses
It may be challenging for seniors to function independently when they are afflicted with a chronic illness. Hiring a professional caregiver from Visiting Angels Gastonia is the best way to make sure your loved one gets the aid they need during the night if you are unable to be there yourself.
Our caregivers will assist your loved one with tasks such as changing bedsheets after an accident or reminding them to take their medications before bed. In addition, we can monitor your loved one and alert you if they are experiencing any symptoms that are keeping them from getting a good night's rest.
Recovering from an Injury or Medical Procedure
After being discharged from the hospital, your loved one may still need help with everyday tasks if they are too physically taxing for them to do on their own. This is especially true if they have just had surgery or if they have been injured in an accident and are recovering at home.
Our caregivers can help your loved one with pre-bedtime tasks including getting in and out of bed, taking a bath or shower and other forms of personal hygiene. Our caregivers will be there to help them go safely from one room to another or up and down the stairs if they need to get up in the middle of the night, which may be especially helpful for those who have just had surgery and may be experiencing some degree of mobility impairment.
Why Do Seniors Choose Visiting Angels Gastonia?
When you choose overnight in-home care assistance from Visiting Angels Gastonia, you're choosing a team that will put your loved one's needs first. Each of our clients receives a tailor-made care plan because we strive to provide care that is as unique as the seniors we serve. Our care coordinators will work with your loved one's schedule to design a care plan that integrates all of the services they really need while also allowing them to maintain their nighttime routine.
Our objective while providing overnight in-home care assistance is to keep seniors safe and comfortable while offering families peace of mind. Our team will stay in touch with you on a regular basis to keep you updated on how your loved one is doing. We will make sure to notify you if we notice any changes in their health or behavior so you can be informed.
Call Visiting Angels Gastonia at 704-825-3350 to schedule a free in-home consultation!
Serving Gastonia, Cramerton, Kings Mountain, Shelby, Belmont and Surrounding Communities in Gaston and Cleveland Counties
Visiting Angels
GASTONIA, NC
1544 Union Rd Ste B
Gastonia, NC 28054
Phone: 704-825-3350