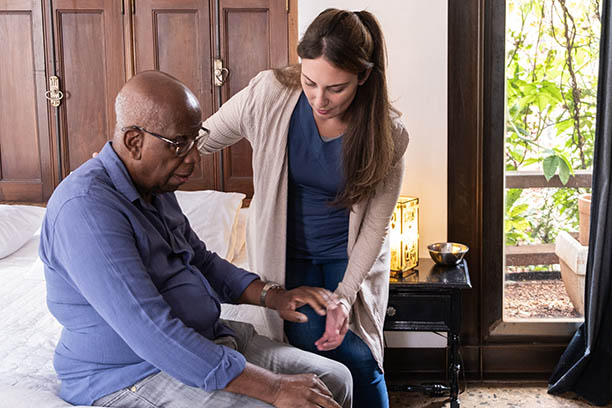 Comforting Palliative Care Services for Seniors in Jenkintown, PA and Surrounding Areas
Our Certified Palliative Care Program is designed to enrich the physical, emotional, social and spiritual needs of seniors in Ambler, Abington, Jenkintown, Philadelphia, Horsham, Hatboro and the surrounding areas of Eastern Montgomery County, PA
Visiting Angels focuses on all aspects of a client's needs, including physical, emotional, social and spiritual needs, with the aim to improve one's overall quality of life. As the program is designed to provide assistance and support regardless of life expectancy, it certainly surpasses what most people may expect when they think about comfort care.
The truth is that most people don't differentiate between palliative and hospice care, and many use them interchangeably. However, in the caregiving industry, these terms are traditionally seen as different types of care - while both aim to relieve discomfort and strive to improve quality of life of the recipient, hospice care is typically provided to those nearing the end of their life while palliative services can be delivered to anyone regardless of life expectancy.
At Visiting Angels Jenkintown, we based our program on traditional values of palliative care - to enrich the quality of life of senior clients through personalized, compassionate, non-medical comfort care.
What's Included in the Certified Palliative Care Program from Visiting Angels Jenkintown
This program is encompassed in our Life Care Navigation – a comprehensive collection of senior care services. Life Care Navigation also includes end of life care which is designed to provide compassionate support to terminally ill older adults and their families.
At Visiting Angels, we train our caregivers in a philosophy of comfort care that is supportive, compassionate and comforting. We deliver our care in regards to the client's overall well-being rather than just performing a set of tasks. To achieve this, our caregivers take on a holistic approach to care and cater to each client's physical, emotional, social, and spiritual needs on a daily basis.
Our Certified Palliative Care program includes:
Providing for a client's physical needs by monitoring them for signs of pain and discomfort and acting accordingly.
Attending to a client's emotional needs by providing a calm and caring presence, as well as meaningful companionship to reduce feelings of stress, anxiety or loneliness.
Fulfilling a client's social needs by providing engaging conversation and building relationships with clients and their families
Caring for a client's spiritual needs by restoring their hope and helping them find relief.
How to Get Started with Our Comfort Care Services in Jenkintown and Surrounding Areas
If your mom or dad is in need of quality in-home care services, Visiting Angels Jenkintown is here for you. We will be more than happy to answer any questions you might have about our Certified Palliative Care program. We can also schedule a free, no-obligation consultation with one of our care directors in the comfort of your loved one's home. By working with Visiting Angels Jenkintown, you can expect nothing but the best for your senior loved one – a customized care plan based on their unique needs, a client-centered approach to care, and the ability to Select Your Caregiver.
Contact our Jenkintown, PA, office today to schedule a free care assessment and learn more about our comfort care services. We look forward to working with you!
Serving Jenkintown, Abington, Huntingdon Valley, Glenside, Chestnut Hill, Flourtown and the Surrounding Areas
Visiting Angels
JENKINTOWN, PA
1250 Greenwood Ave #1A
Jenkintown, PA 19046
Phone: 215-938-7201
215-938-7202
Fax: 215-887-7204