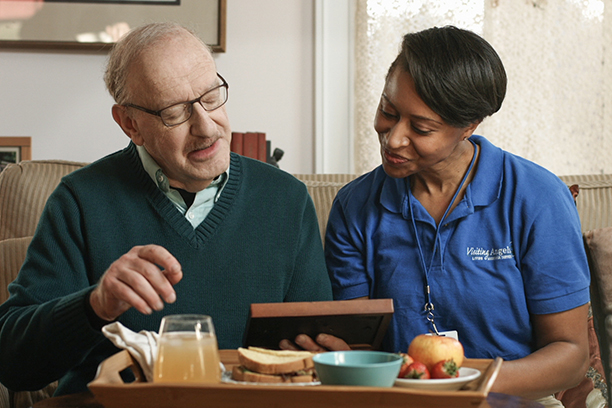 Types of Dementia Care for Seniors in Jenkintown, PA and Surrounding Communities
Visiting Angels offers personalized and compassionate dementia care services for seniors in Jenkintown, Abington, Ambler, Philadelphia, Horsham, Hatboro and surrounding communities in Eastern Montgomery County, PA
If you have a family member with dementia — whether they're your spouse, your parent, your grandparent, or another relative — it can be tough to get them the quality of care they need to stay comfortable and safe. That's why Visiting Angels Jenkintown offers a dedicated home care program for seniors who are coping with memory disorders.
This program offers specialized care, provided by knowledgeable caregivers, with services tailored to each client's individual needs. Care is shaped around your loved one's personality, routines, and the type of dementia they are coping with. This ensures your family member receives the exact care he or she needs to stay safe and comfortable.
Dementia care services from Visiting Angels Jenkintown are available throughout Eastern Montgomery County. In addition to Jenkintown, PA, our care providers also service Abington, Lafayette Hill, Ambler, Chestnut Hill, Philadelphia, Horsham, Hatboro and Lower Gwynedd.
Personally Tailored Dementia Care Services
Every case of dementia comes with its own unique challenges. Just as no two people are exactly alike, no two cases of dementia are exactly the same. When caring for those with dementia, this means that a personal approach is essential for quality care.
At Visiting Angels Jenkintown, we're sensitive to the specific needs and concerns of every client. We strive to provide seniors with the personalized care they deserve, helping them enjoy the activities they love, maintain the routines that keep them comfortable, and manage moments of confusion, irritability and anxiety. Our services for Jenkintown seniors cover dementia in all of its forms, including:
Vascular dementia
Wernicke-Korsakoff Syndrome
Dementia with Lewy bodies
Huntington's disease
Frontotemporal dementia
Creutzfeldt-Jakob disease
Mixed dementia
Visiting Angels Jenkintown also offers a dedicated Alzheimer's care program, built specifically for seniors with Alzheimer's disease.
Get Started with Visiting Angels Jenkintown's Home Care Solutions for Seniors with Dementia
If you're looking to get started with dementia care for an elderly loved one, we invite you to give us a call and book a no-cost, no-obligation assessment. One of our care directors will speak with you and your loved one in your loved one's home. We will get to know your loved one's needs, answer any concerns you have about care services, and discuss how care can be structured to suit you and your loved one. We also offer the opportunity to Select Your Caregiver® ensuring your loved one is matched with the right care provider.
Call Visiting Angels Jenkintown today to schedule an in-home assessment for your loved one.
Serving Jenkintown, Abington, Huntingdon Valley, Glenside, Chestnut Hill, Flourtown and the Surrounding Areas
Visiting Angels
JENKINTOWN, PA
1250 Greenwood Ave #1A
Jenkintown, PA 19046
Phone: 215-938-7201
215-938-7202
Fax: 215-887-7204