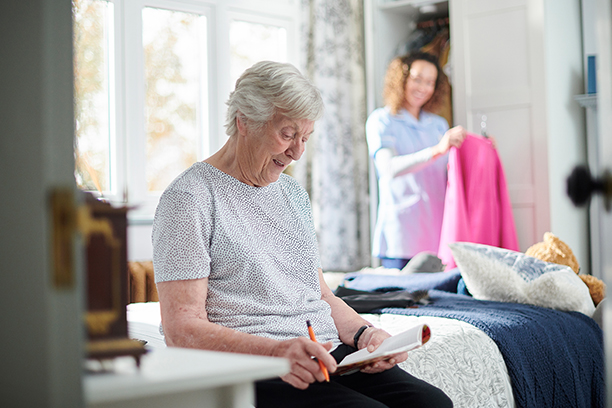 Decreasing the Risk of Falls with Non-Medical Home Care Services in Jenkintown, PA and Surrounding Areas
Non-medical home care services from Visiting Angels helps seniors in Jenkintown, Ambler, Horsham, Abington, Hatboro, Philadelphia and surrounding areas in Eastern Montgomery County, PA stay safe at home while avoiding fall-related incidents
As your mother or father ages, concerns about falling often increase. Falls can affect your loved one's quality of life and cause costly hospital and rehabilitation bills. Fear of falling can become a major roadblock for seniors who are living independently, causing lack of confidence and a decrease in activity. Elderly companion care from Visiting Angels® Jenkintown can help your loved one with fall prevention, keeping them safe and sound at home.
Fall Prevention Expertise from Visiting Angels Jenkintown
Visiting Angels Jenkintown offers a free fall prevention brochure for our clients. We have partnered with Dr. Roberta A. Newton, PhD from Temple University College of Health Professionals in Philadelphia, PA to identify what causes falls and which areas often pose the most risk for seniors. A free in-home assessment from our agency can help you find areas in the home where your loved one is most vulnerable to falls. We can offer useful suggestions to make your loved one's living space easier to manage, as well as provide non-medical home care services to make sure your loved one is safe at all times.
Some Safety Precautions to Try
Visiting Angels Jenkintown recommends asking your caregiver for assistance or trying the following precautions to avoid falls:
Avoid reaching overhead by placing commonly used objects on lower surfaces
When picking up objects from the floor, hold onto a sturdy object for balance
Add grab bars and non-skid mats to bathtubs to stay safe while getting in and out
Sit on chairs that aren't too low to the ground and use armrests to get up and down
If you feel unsteady while walking, ask your physician about using a cane
Non-Medical Home Care Services Can Help You Address Fall Risk Factors
There are some factors that increase one's risk of falling. Thankfully, Visiting Angels Jenkintown can help your loved one address these risks. Being aware of some contributing factors is a great place to start in keeping your loved one safe. Some influences may include taking multiple medications throughout the day, dizziness caused by hearing loss, vision changes, ill-fitting slippers or robes, throw rugs on the floor, dark hallways and floor clutter. Your companion care professional from Visiting Angels Jenkintown can help you identify and reduce these risks so your loved one can remain safe and happy at home.
Call Visiting Angels Jenkintown, PA, now at 215-938-7201 to learn how our non-medical home care services can help keep your loved one safe and to schedule a free safety assessment.
Serving Jenkintown, Abington, Huntingdon Valley, Glenside, Chestnut Hill, Flourtown and the Surrounding Areas
Visiting Angels
JENKINTOWN, PA
1250 Greenwood Ave #1A
Jenkintown, PA 19046
Phone: 215-938-7201
215-938-7202
Fax: 215-887-7204