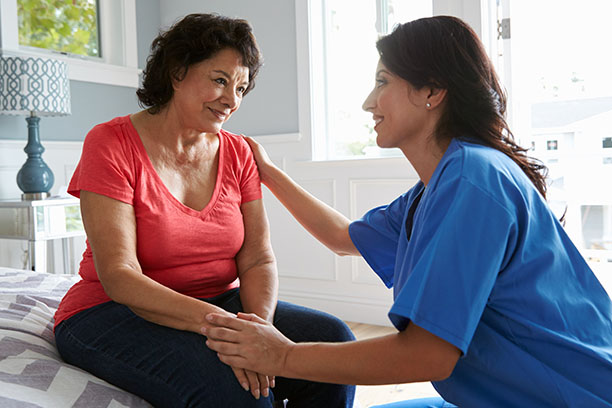 Personalized In-Home Dementia Care for Seniors in Jenkintown, PA and Surrounding Areas
Our personalized dementia care services help seniors in Ambler, Abington, Jenkintown, Philadelphia, Horsham, Hatboro and the surrounding areas of Eastern Montgomery County, PA get the support they need without having to relocate
When your parent or loved one is diagnosed with dementia, you may not know where to turn. You may be worried for your loved one's safety and feel unsure about whether or not they will be able to maintain their quality of life. Know that you are not alone.
Our dementia care services have helped many seniors in Jenkintown, Lafayette Hill, Abington, Ambler, Lower Gwynedd, Philadelphia, Hatboro, Horsham and throughout Eastern Montgomery County.
The Importance of In-Home Dementia Care for Seniors in Eastern Montgomery County
If your loved one has been living with one of the types of dementia, you understand just how hard they struggle with living on their own. The symptoms of dementia, such as memory loss and problems with wandering, can make independent living difficult and even dangerous for seniors.
You may have thought about relocating your loved one to an assisted living facility or nursing home. However, these facilities aren't always the best solution. An unfamiliar place can agitate seniors with dementia, causing them to become confused and upset. This can especially affects seniors who wish to live on their own despite their diagnosis.
In-home dementia care is becoming a popular choice for seniors with memory-related illnesses like dementia, Alzheimer's, Parkinson's and others. This is because the familiar surroundings of the home they've lived in for years can make it easier for them to manage their symptoms. However, living at home with dementia requires additional support. Many family caregivers aren't equipped to provide this level of care or become stressed and burnt out which is why many families turn to professional agencies like Visiting Angels.
At Visiting Angels Jenkintown, we understand that when working with someone who has a memory disorder, maintaining a daily routine is key. That's why we create a specialized memory care plans for every senior with dementia we care for in the Eastern Montgomery area in Pennsylvania. Our care plans are designed to fit within your loved one's preexisting schedule, so that the transition to working with a caregiver is as smooth as possible.
Our caregivers are available evenings, weekends and holidays, as well as during the day, so your loved one receives high-quality care when they need it most.
Before we begin care, we meet with you and your loved one to create a plan that's right for them. Our plans are extremely flexible, so if your loved one's needs change, their care plan can change with them.
How Our In-Home Dementia Care Services Can Help Seniors in Jenkintown and Surrounding Areas
Our team of caregivers is dedicated to providing respectful in-home care to seniors with dementia in the Jenkintown and Eastern Montgomery area. We approach our work with compassion and strive to create meaningful and lasting relationships with the seniors in our care. Our caregivers have the experience and training needed to provide quality care for seniors with dementia, so you can rest assured your loved one is in capable hands with Visiting Angels Jenkintown.
Just some of the ways our caregivers can help your loved one include:
Medication reminders to help make sure your loved one takes the right medication at the right time.
Providing a watchful eye to make sure your loved one doesn't get injured or lost.
Encouraging healthy habits to slow down the progression of dementia.
Helping your loved one cope with dementia-related confusion, anger, anxiety and disorientation.
Providing a positive and supportive presence for your loved one to spend time with.
24/7 after-hours support for any emergency situations.
To find out more about how our dementia care services can help your loved one, contact us at our Jenkintown, PA office today and book a no-cost care consultation.
Serving Jenkintown, Abington, Huntingdon Valley, Glenside, Chestnut Hill, Flourtown and the Surrounding Areas
Visiting Angels
JENKINTOWN, PA
1250 Greenwood Ave #1A
Jenkintown, PA 19046
Phone: 215-938-7201
215-938-7202
Fax: 215-887-7204