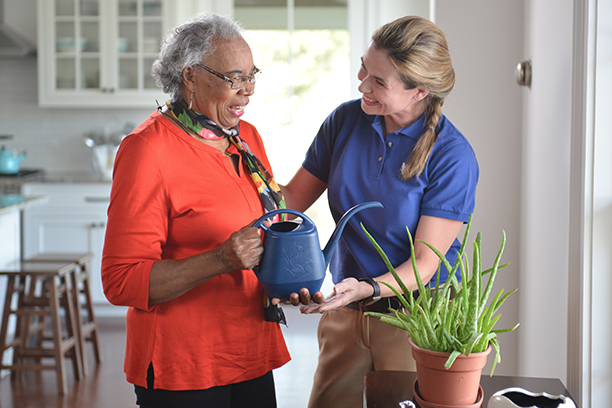 Visiting Angels Home Care Provides Care For Those Living With Alzheimer's in Marietta, GA
Visiting Angels Home Care in Marietta Believes Support is the Most Important Resource When You're Caring for Someone With Alzheimer's
According to a recent study by the Alzheimer's Foundation of America, there are over 5 million Americans who live with Alzheimer's, a disease of the brain that has no cure at this time. It affects memory and causes a slow decline in reasoning and thinking skills. Undoubtedly, an Alzheimer's diagnosis is devastating, but did you know that Visiting Angels home care in Marietta, GA can help you or your loved one through this difficult time?
With current treatments and therapies, dementia symptoms can be slowed, thus improving the quality of life for both those living with the disease and their caregivers. Should you suspect that someone you care about may be displaying symptoms of Alzheimer's disease, it's essential to have them assessed by a physician without delay. Once you have seen a physician, Visiting Angels home care in Marietta, GA can help!
Visiting Angels home care ensure that you are not alone during this overwhelming time. We provide quality, compassionate assistance for you or your loved one.
Look Out For These 10 Warning Signs of Alzheimer's:
Difficulty performing familiar tasks, be it at home or work.
Confusion about time and location: Losing track of time is a symptom of Alzheimer's, like the time of day, dates and seasons.
Memory loss: When memory loss disrupts daily life, such as not remembering names of people or places, where items should be placed, new information, and recent events, this is a serious red flag.
Problems with words, be it with speaking or writing: People with Alzheimer's often have trouble finding the right words when speaking or writing, making it difficult to have conversations and complete sentences.
Planning and problem-solving challenges: There may be issues with tasks that they've done many times before like paying monthly bills or following a favorite recipe due to concentration issues.
Difficulty with spatial relationships and understanding visual images: look for trouble judging distance or reading, as well as determining color or contrast.
Withdrawal from work or social activities.
Mood or personality changes: Signs include disinterest and withdrawal from usual activities, rapid and persistent mood swings, anxiety or suspicion, increased depression, and fearfulness.
Decreased or poor judgment: When making decisions, they may pay less attention to hygiene or grooming, and there may be issues with monetary scams.
Misplacing things and losing the ability to retrace steps: Individuals with Alzheimer's may end up placing their things in places that are unusual or insist that people are stealing from them.
With compassionate and reliable Visiting Angels home care, you have an experienced team on your side. Our specialists are trained to care for individuals with dementia and Alzheimer's, giving you the peace-of-mind that there are skilled specialists on-hand to take care of you or your loved one.
Serving Marietta and Smyrna, GA
Visiting Angels
MARIETTA, GA
2470 Windy Hill Rd SE #300
Marietta, GA 30067
Phone: 770-709-6884
Fax: 678-324-7612