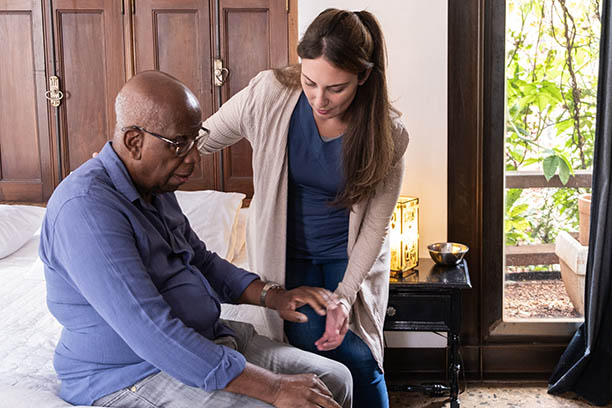 Visiting Angels Provides Marietta, GA Certified Palliative Care
Palliative Care From Visiting Angels of Marietta Focuses on Providing a Holistic Approach to Care
Certified Palliative Care, a care program provided by Visiting Angels of Marietta, GA, improves a senior's lifestyle by focusing on their emotional, physical, spiritual, and social needs. Going beyond the traditional care approach, we strive to provide comfort and assistance no matter the life expectancy. Oftentimes, most people interchange the terms "hospice care" and "palliative care." However, these are indeed two different types of care.
Similarly, palliative and hospice care, at the core of their assistance, both seek to improve the overall quality of life while relieving discomfort. Yet, typically, hospice care is for those individuals who are nearing the end of their lives. Palliative care, on the other hand, is for elders who need care that is focused on their well-being and comfort, regardless of their life expectancy.
Quality Care in Marietta, GA
Visiting Angels of Marietta, GA offers Life Care Navigation, a collection of senior care services. End of life care, which is also included in our Life Care Navigation, can provide your loved one with comforting assistance and care during the end of life process. We train our caregivers on the philosophy of care that is comforting, soothing, and supportive, representing a holistic mindset. At the crux of our mission, we aim to assist with healing while also restoring hope.
Addressing Physical, Emotional, Spiritual, And Social Needs
We address your loved one's physical care needs by recognizing and responding to common signs among seniors, assuring non-medical care for our client's comfort.

We address a senior's emotional needs by utilizing an approach that's compassionate, thus supporting older adults who may be experiencing anxiety, stress, loneliness, or depression.

We address your loved one's spiritual needs by restoring hope to an elder's life, supporting them, so they can find relief, peace, and comfort from age-related health issues and difficulties. Rest assured, we treat each senior with respect and dignity.

We address the social needs of seniors by encouraging relationships, both with our clients and their families, but also by providing conversation and companionship to those in our care.
How Can I Get Started with Care?
As always, we're more than happy to answer any of your questions about our care services. If you are interested in learning more about our certified palliative care program, we can schedule a meeting in the comfort of your home. Contact us today to book a free assessment.
Serving Marietta and Smyrna, GA
Visiting Angels
MARIETTA, GA
2470 Windy Hill Rd SE #300
Marietta, GA 30067
Phone: 770-709-6884
Fax: 678-324-7612