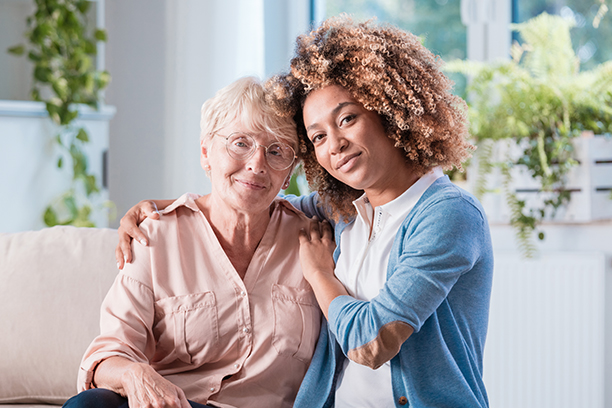 About Visiting Angels, the Leading Senior Care Provider for Families in McKinney, Allen, Frisco and Plano, TX
Our in-home senior care agency proudly serves the adults and seniors in Allen, McKinney, Frisco, Prosper and surrounding communities throughout Collin County, TX.
Scott and Theresa Kolp have been married for over 20 years and are the proud parents of three amazing children who all grew up here in the McKinney area. Together, they started Visiting Angels McKinney in 2008. Since then, they have grown to become one of the most tenured and respected senior care agencies in the entire area, having helped hundreds of families in and around Collin County. Their goal from the beginning was simple: to give seniors in their community the ability to age gracefully in the sanctuary of their own homes by providing personalized, one-on-one home care services. It's a mission they take very seriously and a mission that they intimately understand.
Scott and Theresa both dealt with very difficult situations with their own parents in which they had to utilize outside help in order to help them continue living comfortably at home. They quickly discovered the critical need for better, safer and more competent senior care assistance and made the life-changing decision to open Visiting Angels McKinney.
Our Team of Senior Care Experts
Theresa Kolp
Owner/Director
Administrator

Theresa graduated from The University of Missouri St. Louis and was a human resources specialist and executive corporate recruiter. She manages all of the day-to-day operations of the agency and is the acting administrator in charge. Theresa works very closely with all of our families in ensuring that they are receiving the absolute best care possible.
Scott Kolp
Owner/Director

Scott is a graduate of Southwest Texas State with a degree in communications. Prior to Visiting Angels, he spent over 20 years in senior level business management and operations. Scott is involved with day-to-day operations and handles all financial aspects of the agency. In addition, he oversees and implements all state licensing, regulatory and compliance areas of the company.
Lisa Vonderschmidt
Director/ Community Liaison
Lisa assists in managing daily operations at the Visiting Angels office and supervising the delivery of care. In addition, Lisa manages all of the agency's community outreach efforts and works closely with our many partners in Home Health, Hospice, Nursing Facilities and Assisted/Independent Living Communities.
Lisa spent the majority of her career in Management, Public Relations and Crisis Communications. She and her husband Kevin have called McKinney their home for over 20 years and are the proud parents of 3.
Shannon Sennett, LMSW
Intake Manager/Client Care Supervisor

Shannon is in charge of developing and overseeing all of the care plans for Visiting Angel's clients. She is a Licensed Master Social Worker and has been in the social work profession for over seventeen years. Her passion is in helping individuals and families navigate through life's many challenges and this passion is witnessed every day by Visiting Angels' clients.
Shannon and her husband Brian reside in Frisco where they are raising their three school-aged children
Darlene Kellner
Director of Scheduling
Darlene manages and oversees all staffing and scheduling aspects of the agency. She is in daily contact with our clients and families to make sure visits are optimized in the best way possible. Working with families on building schedules is often like putting together a puzzle and no one is better at putting these puzzles together as Darlene!
Darlene and her husband, Dan, are the proud parents of two grown boys and have called McKinney home for the last 25 years.
Adrienne Crowley
Scheduling Manager
Adrienne works hand in hand with Darlene in overseeing our clients' scheduling needs. Matching our clients with the right Caregivers is a vital aspect of our care plans and Adrienne plays a crucial role in this process.
Adrienne's career has exposed her to a variety of industries spanning both corporate and medical disciplines. She, her husband Dave, and their 2 kids call McKinney home.
Kim Sabadie
Care Coordinator/Administrative Support
Kim provides internal support to all staff members with a focus on Caregiver recruitment. She is also the agency's main point of contact for and assists all of our clients in facilitating and administering their long-term care policies for the services being provided.
Kim has over 20 years of experience in the recruiting industry with tenure in both private and corporate sectors. Kim, her husband Erik, and their two children call McKinney home.
Bri Vela
Care Coordinator/Administrative Support
Bri coordinates and assists not only our internal staff but our Caregivers and Clients as well in many of the agency's daily activities. While she wears many hats, she has a primary focus on scheduling where she works tirelessly to ensure that our clients' needs are coordinated and optimized.
Bri has over 9 years of experience in the healthcare industry with a background spanning both the medical and non-medical sides of the business. Bri and her husband Anthony reside in the Murphy/Wylie area where they are raising their 3 children.
---
We are one of the most tenured senior care agencies in the area. Our business was formed in 2008 and has expanded over the years due to the continued trust put into us by the local adults and seniors in McKinney, Allen, Prosper, Frisco and throughout Collin County.
If you or your loved one believe that you could benefit from our in-home care services, please contact our McKinney, TX office. Our senior care experts are here to help your family make the decision that is right for you.
Serving McKinney, Allen, Frisco, Prosper and Other Communities in Collin County, TX
Visiting Angels MCKINNEY, TX
4500 Eldorado Pkwy #1500
McKinney, TX 75070
Phone: 214-491-1999
021334