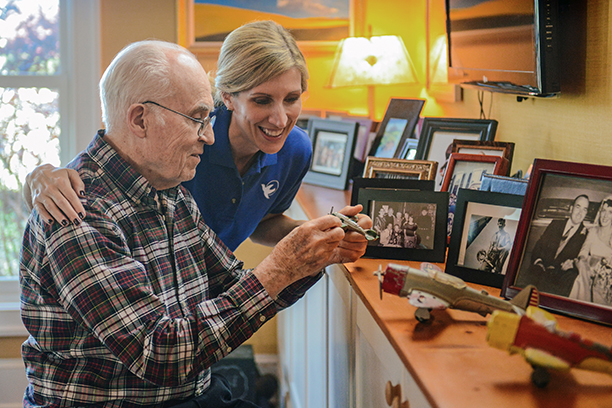 FAQ About In-Home Elder Care from Visiting Angels McKinney
Do you have questions about in-home elder care services? Do you want to learn how Visiting Angels McKinney has been helping seniors in McKinney, Allen, Frisco, Prosper and surrounding Collin County, TX communities since 2008? Read below to get answers to frequently asked questions.
Choosing In-Home Elder Care Services
Why should I choose in-home elder care?
If your senior loved one values their independence and has lived in their home for many years, they may not want to relocate to other popular senior living options like nursing homes or assisted living facilities. With in-home elder care services from Visiting Angels McKinney, they won't have to. Rather, our caregivers will come to your loved one and provide the personalized, one-on-one support they need with everyday tasks, taking care of their overall wellness and so much more. Our services can help your loved one remain independent and live out their golden years in their cherished home.
My loved one has dementia. Can they benefit from receiving care at home?
Yes! In-home elder care services can be beneficial to seniors living with dementia because it allows them to get the support they need in familiar surroundings. Having to relocate to a memory care facility or nursing home can be jarring to someone with a cognitive-related condition like dementia because they may not adjust to their new home properly, causing them to feel upset. However, in-home care can help seniors avoid these issues and allow them to age in place safely and comfortably while getting help managing symptoms of their condition. If your loved one is living with dementia, consider dementia care services from Visiting Angels McKinney. We also offer support for seniors living with Alzheimer's and Parkinson's care, too.
How Professional Elder Care Services from Visiting Angels McKinney Can Help
How can caregivers from Visiting Angels McKinney help my loved one?
Visiting Angels McKinney provides a plethora of personalized in-home elder care services designed to promote independent senior living. We offer assistance with personal care tasks (meal preparation, light housekeeping, laundry, bathing, etc.), as well as meaningful companionship, fall prevention and so much more. It is our duty and obligation to meet your loved one's every need and offer our assistance in every possible way. We're here to provide a caring environment so that your loved one can feel safe, happy and supported, while the whole family can have peace of mind knowing that you work with one of the most respectable home care agencies in the nation.
Can you help with medications?
Yes, we can. Even though we do not provide medical care, our caregivers help older adults by providing medication reminders, supervising demanding medication schedules and helping manage pre-poured medications. It's very important to us that you have a clear understanding of what we can provide you with. Our mission is simple - we aim to provide kindness and care to the people you love.
What if I need in-home elder care services for only a short time?
Regardless of schedules or the duration of our care, Visiting Angels McKinney is always here for you. Our short-term care plans are ideal for seniors who have been recently discharged from the hospital. We can help your loved one quickly and safely recover in the comfort of their home. In addition to this, we also provide short-term respite care plans when family caregivers need a short break from their caregiving responsibilities.
Do you offer long-term care?
Of course we do! If your loved one had advanced elder care needs, we can provide the long-term support they need right in their own home. In addition, our McKinney office accepts long-term insurance policies to cover the costs of our services. If you're trying to choose between affordable and quality long-term care, you can have both with Visiting Angels McKinney.
My loved one lives in a nursing home. Can your caregivers help?
Yes. In addition to in-home care, Visiting Angels McKinney also offers supplemental senior care services for older adults in assisted living facilities, nursing homes and similar communities. Our caregivers can provide the comprehensive support your loved one needs and fill in any gaps in their current care plan.
Getting Started with Our Elder Care Services
How can I get started with Visiting Angels McKinney?
Getting started with our elder care services is simple! All you have to do is contact our office. We can arrange a FREE in-home consultation with you and your loved one to go over our services, answer your questions and begin developing a customized care plan. If you decide that Visiting Angels McKinney is the right choice, we'll set up a meeting with our caregivers and begin providing care.
What areas do you serve?
We're proud to make a difference in the lives of seniors living in McKinney and throughout Collin County, including:
If your loved one lives outside of our service area, we may be able to provide the elder care services they need or refer you to a Visiting Angels office in your loved one's area.
Will I have a choice of who comes to my home?
Of course you do. When it comes to deciding on who will be your loved one's caregiver, we encourage you to get involved in the selection process. For Visiting Angels McKinney, it is extremely important that you feel secure and satisfied with your appointed caregiver. Additionally, please let us know if you have any special requests or personal preferences. At Visiting Angels McKinney, we're dedicated to providing top-notch elder care services to elderly adults in our community. Please get in touch with our local office if you have further questions about selecting your caregiver. We're always happy to help.
Contact Visiting Angels McKinney today and learn more about our elder care services and how we can help your family. We'll be more than happy to answer any additional questions you might have and offer our support.


Serving McKinney, Allen, Frisco, Prosper and Other Communities in Collin County, TX
Visiting Angels
MCKINNEY, TX
4500 Eldorado Pkwy #1500
McKinney, TX 75070
Phone: 214-491-1999
Fax: 469-519-7897
021334