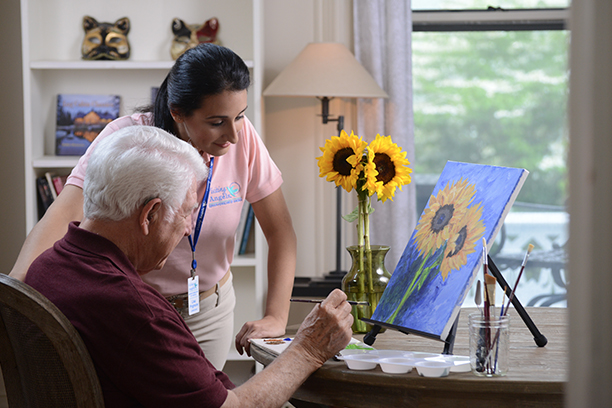 Visiting Angels' Senior Care Services Can Help Families in and Nearby Cleveland, GA
Visiting Angels' Senior Care Services Allow Your Loved One to Receive the Specialized Care They Deserve in the Comfort of their Cleveland Home
Taking care of elderly loved ones can be overwhelming. The thing is, our loved ones require specialized care so that they feel comfortable and safe within their home. The best thing that you can do for them is to get essential senior care services from Visiting Angels of Cleveland, GA. But what does our care entail? Home care services are defined as activities that you do to take care of seniors right in the comfort of their home.
It Is Okay to Ask Questions
Not everyone has experience in seeking care services, so we understand if you have doubts and concerns. Questions such as how do caregivers allow clients to maintain their independence while still ensuring their safety? How do they provide care but still respect that they are in the home of their clients? How do they hand different personalities? These are some of the questions that people often raise when deciding to get the services of an in home caregiver.
It is normal for anyone to ask these questions. Your doubts are justifiable because home care aides, even though professionals, are still strangers that you welcome in your house to take care of important members of your family.
Essential Care Services We Provide
As the main care provider to your loved one, it is crucial that you do due diligence regarding the care options that you have. As a key player in the industry, we have been around providing caregivers to clients all over the country. As such, we have handled a lot of clients thus we were able to deal with different situations, schedules, personalities, and needs.
The one-on-one senior care services that we provide include consultation of scheduling and cost, personalizing of the care plan, scheduling of home visits, coordinating with the caregiver, and changing of the care plan whenever necessary. Moreover, we also respond to emergency situations and late day discharge, so you can have access to care providers 24/7.
Once you have decided on our essential senior care services, do not hesitate to reach out to us so that we can match your elderly loved one in Cleveland or the surrounding area with an exceptional care provider.
Contact Visiting Angels of Cleveland at (706) 200-1773 to learn more about our essential home care assistance.
Serving North Hall, East Lumpkin, White, Habersham, Stephens, and Rabun Counties
Visiting Angels
CLEVELAND, GA
24 W Jarrard St
Cleveland, GA 30528
Phone: 706-219-1415