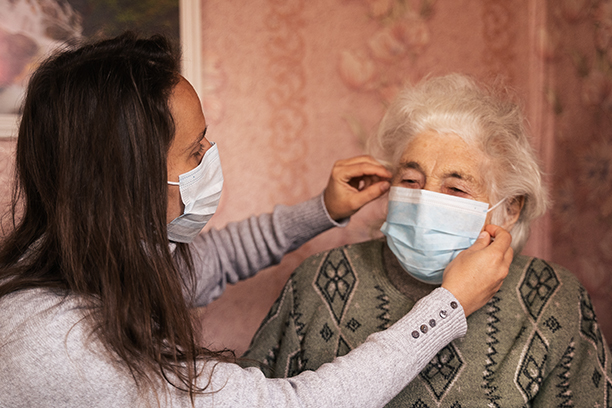 Our Homecare Aides Help Prevent Falls Within a Senior's Home in Cleveland, GA and Neighboring Communities
Is the Fear of Your Loved One Falling Stuck in Your Mind? Visiting Angels' Homecare Aides Can Implement Our Fall Prevention Program in Your Loved One's Home in Cleveland, Toccoa, Clarkesville, or Surrounding Areas
Many older adults lose their ability to care for themselves independently because of falls. Did you know this? By experiencing a fall, older adults are more prone to serious injuries that affect their ability to be mobile. While many seniors know the dangers of falls, they mitigate this by not going out on social functions. What happens instead that they isolate themselves socially and this is not good for their mental health. Many seniors in isolation experience loneliness, depression, anxiety, and sadness to name a few. Visiting Angels of Cleveland homecare aides can help your loved one stay safe within their home, which allows them to stay social.
The Life-Changing Effects of Falls
Serious injuries are sustained by as many as one in five elderly people who experience falls. These injuries include hip fracture, broken bones, and others. While 1 in 3 older adults experiences falls each year.
Recovery is almost always recommended in the long-term care facility where the average length of recuperation is one year. There are those who never make it home.
Yearly, there are 800,000 hospitalizations due to falls.
It has been observed that the elderly who already have experienced a fall are also more likely to experience a fall again.
Falls are Preventable!
How? Simple. Know the risk factors for falls and it will be easier for you to create steps to prevent your loved one from experiencing falls. There are telltale signs that your loved one is at risk for falls. Commonly these can be environmental factors like steep stairs at home or medical factors like intake of various medications which increases the likelihood of falls in the elderly. So, by pinpointing the risk factors, Visiting Angels of Cleveland's essential personal care services can place preventive measures in place to ensure that your loved one is safe from falling.
If you want to prevent your loved one from slipping and falling, hire the homecare aides from Visiting Angels of Cleveland. We have conscientious and professionally trained homecare aides who can help the elderly from falls. With us beside your loved one to aid them with activities of the living, you are placing your loved one in capable and professional hands without sacrificing their access to social interactions and overall quality of life.
Contact us at (706) 200-1773 to learn more about our homecare aides in Cleveland, Toccoa, Clarkesville, Clayton, and the surrounding area.
Download Your Free Safe & Steady Fall Prevention Resource Guide today.
Serving Cleveland, Toccoa, Clarkesville, Clayton, Cornelia, Demorest, GA, and Surrounding Areas
Visiting Angels
CLEVELAND, GA
24 W Jarrard St
Cleveland, GA 30528
Phone: 706-200-1773