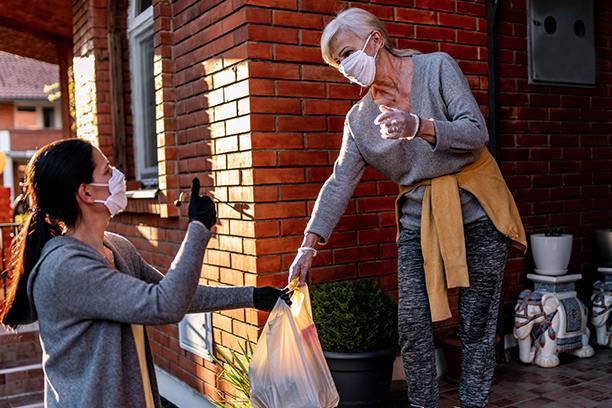 Are You Looking for Alzheimer's Care for Your Loved One in Greater Cleveland, GA?
Visiting Angels Offers In-Home Alzheimer's Care to Seniors in Cleveland, Toccoa, Clarkesville, and Surrounding Areas
According to the Alzheimer's Foundation of America, more than 5 million people currently live with Alzheimer's. Alzheimer's is a fatal, progressive condition that causes a slow decline in thinking, memory, and skills. Without a doubt, such a diagnosis can be overwhelming and frightening but there are many things that can be done to make it through this challenging medical condition. Should you believe that someone you know, or that you yourself are displaying Alzheimer's disease symptoms, it is vital to seek medical assistance for an assessment as soon as possible. In doing so, you'll be able to plan ahead for this disease. By adopting in home supportive services for Alzheimer's care, you will greatly improve your loved one's quality of life.
Keep In Mind These 10 Warning Signs of Alzheimer's Disease:
Difficulty completing familiar tasks: whether it is at home or work, there will be noticeable difficulties completing tasks that are familiar.
Withdrawal from social or work activities.
Poor decision-making skills and judgment calls: there may be less attention to grooming and hygiene, as well as issues with monetary scams or mishandling of finances.
Memory loss: if there is memory loss that disrupts daily life, such as not remembering names of people or places, problems remembering where things go and issues to committing new information to mind, it's a red flag.
Mood or personality changes: signs may include depression, anxiety, mood swings, disinterest in favorite activities or hobbies, withdrawal from social life, as well as suspicion.
Losing the ability to retrace steps and misplacing things: individuals displaying signs of Alzheimer's may accuse people of stealing as they start to misplace their belongings.
Confusion about time and place: the general passage of time, be it dates or seasons, is something that people with Alzheimer's struggle with every day.
Word problems with speaking or writing: trouble following conversations or directions, as well as completing sentences and finding the right words, are signs of Alzheimer's.
Spatial relationships and visual images cause concerns: look for difficulty judging distances, reading, and determining contrast and color.

Challenges with planning or problem solving: familiar tasks like paying monthly bills or following a simple recipe, things that were easy to accomplish before, will become a challenge due to difficulty concentrating.
Do you have a senior parent that is displaying these warning signs? Are you worried that you may be showing some of these symptoms? If so, it's crucial to contact medical help immediately for a physician's assessment. The normal aging process may display a few of these signs, but it's essential to understand if they're indeed linked to Alzheimer's disease. Your doctor may recommend a few options for care, including Alzheimer's care or an assisted living facility.
Friendly, Reliable, Compassionate Care
Contact us at (706) 200-1773 to find out about our Alzheimer's care or to explore care options. With Visiting Angels of Cleveland, we assure dignified, compassionate care for people living with dementia and Alzheimer's in Cleveland, Toccoa, Clarkesville, Clayton, and the surrounding area. With our Alzheimer's care, you're in good hands and you'll never be alone. Let Visiting Angels of Cleveland support you with our Alzheimer's care so you can continue to age in place in the comfort of your own residence.
Serving Cleveland, Toccoa, Clarkesville, Clayton, Cornelia, Demorest, GA, and Surrounding Areas
Visiting Angels
CLEVELAND, GA
24 W Jarrard St
Cleveland, GA 30528
Phone: 706-200-1773