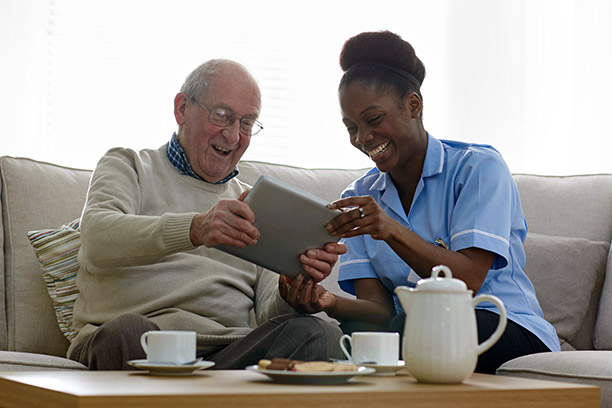 Alzheimer's Home Care Assistance in Cleveland, GA and the Surrounding Areas
Dealing with a diagnosis of Alzheimer's or dementia can be challenging. If you have a loved one who suffers from a memory disorder, you will likely have many questions. How do I know what to expect from this illness? Who will help me care for my loved one? What happens if I can't be there whenever they need me? These are common concerns, and one-on-one Alzheimer's in-home care from Visiting Angels of Cleveland can help ease your mind.
Visiting Angels' Home Care Assistance Helps Seniors Diagnosed with Alzheimer's Disease in Cleveland, Toccoa, Clarkesville, and Nearby Cities
While there is no way to predict exactly how Alzheimer's will progress from person to person, there are common symptoms. Alzheimer's home care assistance from Visiting Angels of Cleveland can help you be prepared for the changes which may affect your loved one. Our agency provides care to our clients while providing support to family caregivers. We can provide you with useful tips and direct you to local resources that can supply additional support. We know memory disorders affect the entire family, and this is why we offer comprehensive home care assistance support.
Benefits of Senior Care Services
Many families wonder who will be there to help provide care to their loved ones. Having respite Alzheimer's care from Visiting Angels of Cleveland is a godsend for family caregivers. Caring for a loved one with a memory disorder is particularly challenging. Loss of memory, personality changes, and behavioral difficulties can be upsetting for family members. Professional personal care assistance can offer additional support your loved one needs with patience and compassion.
Around-the-Clock Care
Another potential issue when caring for a family member with Alzheimer's or dementia is the amount of time required. As your loved one's illness advances, they will require more personalized supportive services and attention. If you're like many adult children with aging parents, you may have kids, grandkids, a career, and other responsibilities of your own. Our care providers can be there to help your family member whenever you need them. Our caregivers are available day or night. We even offer 24/7 around-the-clock care.
Learn More About Visiting Angels of Cleveland
When your family is dealing with a diagnosis of Alzheimer's or dementia you don't have to try and handle everything on your own. Essential senior care from Visiting Angels of Cleveland can offer much-needed support and give your family peace of mind.
Contact our agency today at (706) 200-1773 to learn more about our one-on-one home care assistance in Cleveland, Toccoa, Clarkesville, Clayton, and the surrounding areas.


Serving North Hall, East Lumpkin, White, Habersham, Stephens, and Rabun Counties
Visiting Angels
CLEVELAND, GA
24 W Jarrard St
Cleveland, GA 30528
Phone: 706-219-1415