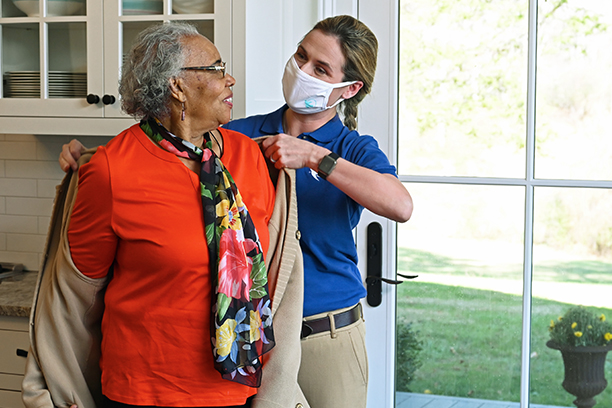 Visiting Angels in Georgia Can Help Local Seniors in the Cleveland, GA and the Surrounding Areas
Visiting Angels in Georgia Can Help Residents in Cleveland in So Many Ways!
Here are some of the common situations where Visiting Angels Georgia can help you or a loved one. You can also read questions from real families with more detailed information below.
To learn how we might help your family in Cleveland or the surrounding areas, please call us at (706) 200-1773.
Visiting Angels Can Provide Numerous Services Including…
Temporary assistance recovering from surgery
Help bathing, dressing, and medication reminders
Meal preparation and light house-keeping
Companionship and social stimulation
Assistance getting to doctor's appointments and activities
Extra attention for loved ones in assisted living facilities
Help returning home from a rehab hospital
Assistance with activities that have become too difficult to do alone
Live-in help for persons requiring round-the-clock care and supervision
Real Questions From Real Families
Q: My mother recently had surgery. Prior to this, she enjoyed many activities such as taking walks and getting together with friends. I am worried that she will lose her desire to do these things during her recovery. What can Visiting Angels Georgia do to help?
A: Visiting Angels Georgia can assist temporarily while your mother recovers from surgery. A caregiver can provide her with the extra help she needs to bathe, dress, regularly eat healthy meals, and adhere to her medication schedule. In addition, our caregivers can take your mother to doctor's appointments and even to social activities when she's ready. With extra help and companionship, your mother will have an increased desire to get better and get back to her friends and activities!
Q: I have a very independent mother who is definitely in need of assistance. I would love to be there for her, but I have to keep my job. She has already fallen and I am afraid she will fall again. She is refusing to allow me to hire a caregiver. Any suggestions?
A: Usually when a parent declines help, there is an underlying reason, such as fear of having a "stranger" come into their home; embarrassment over needing help with very personal things such as bathing or incontinence; or discomfort with spending money on what might seem a luxury. At Visiting Angels Georgia, we seek to make the process of receiving support as comfortable as possible by addressing such underlying fears and concerns.
For example, we start with an in-home visit that would allow your mother to get to know us. We answer her questions and discuss the "difficult stuff" that we deal with every day. We introduce a possible caregiver whom we've identified as a good match to become your mother's primary caregiver. We also talk about the ways that having help will preserve her independence. Chances are if you are afraid she will fall again, so is she. Chances are she would prefer to be in her home than the hospital. And, chances are, there is tremendous guilt associated with "spending the money" on herself. During our in-home visit we can talk through these issues with you and your mother.
Q: There is no charge for this initial process, and if your mother decides she still does not want to receive care, she doesn't have to. Just knowing this is a choice allows independence for your mother. My father lives in an assisted living facility. He suffers from dementia and we do not feel like he is getting enough attention. We visit as much as we can but feel bad and don't know what else to do. How can Visiting Angels Georgia help?
A: Assisted living facilities frequently are unable to provide one-on-one time without the resident or family incurring additional charges. Visiting Angels Georgia can visit a facility on a regular schedule, often at a lower cost. Visiting Angels Georgia could help your father by monitoring how he is eating and drinking at meal times and help him participate in social activities.
Q: My dad is coming out of a rehab facility after experiencing a fall. He is very weak and still considered a fall risk. I work and cannot be with him all of the time, and he lives alone. What would you recommend?
A: We can help in many ways. We can help get your father comfortable at home; prepare meals and assist with exercises; we can even have one of our caregivers bring him home from the facility if arrangements are made ahead of time. Usually, someone that weak will need bathing, dressing, and bathroom assistance. Many of our caregivers are Certified Nursing Assistants (CNA) and are experts in the proper techniques for assisting with these activities of daily living. Your father will be so glad to be home, and with additional help he will continue to recover and get stronger. When you no longer need our services, you can stop services when you wish.
Q: Against my recommendation, my mother hired someone from her church to be her caregiver. The lady is very nice but she calls her own schedule and my mother is essentially on standby week to week. Sometimes she doesn't come at all and then I have to miss work. What can I do to convince her?This is a very common situation. There are very good people out there that desire to help. But, as with any volunteer work, it is done when they are able to. A professional caregiver not only has chosen this for a living but is held accountable for being there on time. Also, Visiting Angels Georgia will document a Care Plan so expectations are very clear about what the needs and desires are for each visit, each week.
A: I am sure that your mother has already been disappointed by this person and is aware of how it is affecting your work. She probably feels like there is no other solution. I would recommend setting up an in-home meeting (at no cost) just to talk out the situation. If a friend of hers has used similar services, this may help convince her. We can also provide references to current or past care recipients or their families whom your mother can contact with questions.
For most seniors, it is a gradual process of acceptance. The more planning there is, the better. Plant the seed and let them mull it over a bit. Try not to wait for an emergency before introducing home care.
Q: My mother is 87 and lives with us. She loves this time of year, but I just do not have the time to help her with everything that she likes to do at Christmas. Do you do this kind of thing?
A: While our caregivers specialize in personal care and are trained to assist with activities of daily living such as bathing, dressing, and meal prep, we also can assist with personal activities, such as preparing her living space for Christmas. We will put on some music and may even dance while we do it!
Q: Why should I hire an agency to care for my father when it seems cheaper to hire someone privately?
A: Hiring privately always appears to be less expensive. In the long run, however, it is rarely the best solution and is often risky. This is because you are not paying someone to manage the caregiver and the schedule and adhere to regulations regarding care and safety. Also, there are payroll and unemployment tax and insurance liability issues that you will be taking responsibility for if you hire a Private Duty Aide directly or through an agency.
Our Visiting Angels Georgia business invests significant time and money into choosing our staff, managing them carefully, and ensuring that our clients' needs are always met. For example, should your father want to switch to night care instead of day care, is that private caregiver going to be able to accommodate him? If your father needs someone to stay with him all week long, can that private caregiver do it? If the private caregiver is ill or needs vacation time, will your father be ok at home alone with no support?
At Visiting Angels, there is a team to care for your father. And although he may want just one caregiver and will most likely have a favorite, if that primary person gets sick, Visiting Angels Georgia will still get your father the care he needs!
See our Resources tab for more general information on the aging process, including book suggestions and local and national resources.
Call us today at (706) 200-1773!
Visiting Angels in Cleveland, GA provides in-home care, senior homecare, elderly care, Dementia care, Alzheimer's care and more to Clermont, Murrayville, Cornelia, Mount Airy, Baldwin, Demorest, Clarkesville, Mossy Creek, Cleveland, Fairview, Stovall Mill, Harvest, Pardue Mill, Shorts Mill, Dicks Hiss, Yonah, Helen, Sautee-Nacoochee, Turnerville, Tallulah, Falls, Wiley, Tiger, Batesville, Suches, Margret, Jones Creek, Bunker Hill, Hood, Choestoe, Town Creek, Owltown, Blairsville, Notalee Orchards, Bethlehem, Ivy Log, Young Harris, Jacksonville, Townsend Mill, Hiawassee, Macedonia, Titus, Rabun Gap, Sky Valley and Clayton, GA.
Serving Cleveland, Toccoa, Clarkesville, Clayton, Cornelia, Demorest, GA, and Surrounding Areas
Visiting Angels
CLEVELAND, GA
24 W Jarrard St
Cleveland, GA 30528
Phone: 706-200-1773