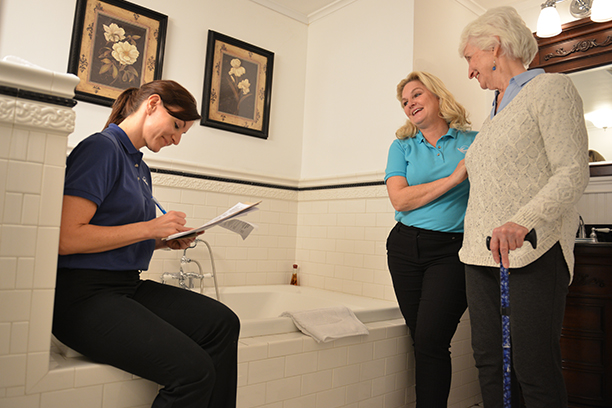 Transitional Elderly Care in Cleveland, GA and the Surrounding Areas
Our Ready-Set-Go Home program is a transitional elderly care service that helps seniors reduce re-admittance to medical facilities in the period following a discharge from a hospital. Designed to provide support during their hospital stay and while recovering at home from their health issues, our agency offers this much-needed one-on-one care to ensure the transition from the hospital to their home is indeed successful.
Are You Looking for Transitional Elderly Care in Cleveland, Toccoa, Clarkesville, or Nearby City?
With a three-prong approach, our aim at Visiting Angels of Cleveland is to follow our elderly clients closely, supporting their families when they need assistance throughout the recovery period. In doing so we decrease re-injury, a major risk factor for seniors, thus decreasing the likelihood of readmission.
Visiting Angels of Cleveland Provides Essential Assistance
Did you know that, among all seniors on Medicare, approximately 20% of them return to the emergency room because of re-injury? The reality is when elderly clients are readmitted to the hospital within the 30 days following a discharge; they have a significantly lower chance of recovery. That's where our family home care agency comes to the rescue, offering help to reduce readmission during the post-discharge period. In essence, we believe our Ready-Set-Go Home program is essential. With essential elderly care services, your loved one will always have a helping hand to support them through this worrisome time.
Three-Prong Approach to Reducing Readmission
Specially created to assure our elderly clients have all the on-site support they need, our program considerably improves the chances of a full or partial recovery. And most importantly, it also reduces readmission risks.
At the Hospital: Our Ready-Set-Go Home program begins in the hospital before your dear senior is discharged. Assuring on-site support to both patients and families, our skilled companions can also guide you through the discharge process and offer suggestions on what questions to ask the medical staff to decrease the likelihood of readmission. Furthermore, our "Ready-Set-Go Home" guide, which can be found online, provides you with the most pertinent information about hospital discharges.
At the Client's Home: At home, your beloved elder will get all the care they need from our friendly, compassionate elderly care providers. During the recovery phase, our aides also keep an eye on your loved one's health, noting any issues and contacting you if a problem arises.
At the Office: Behind the scenes, our office will support you and your loved one's caregivers. Our office has access to tools for reducing hospital readmission by identifying high-risk clients. Our staff can provide medication and appointment reminders, accompany your loved one to appointments, and help you coordinate medication, equipment, and food deliveries.
Learn More About Visiting Angels
Want to learn more about our transitional elderly care in Cleveland, Toccoa, Clarkesville, Clayton, and the surrounding area? Contact us today at (706) 219-1415 and find out more about our Ready-Set-Go Home program that guarantees quality home assistance and reduces hospital readmission.
Serving North Hall, East Lumpkin, White, Habersham, Stephens, and Rabun Counties
Visiting Angels
CLEVELAND, GA
24 W Jarrard St
Cleveland, GA 30528
Phone: 706-219-1415