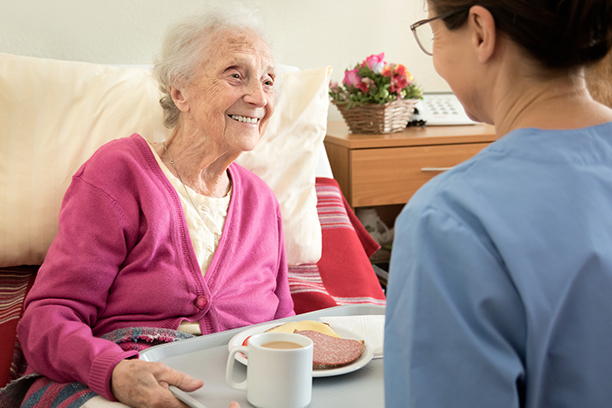 Family Home Care Services for Meal Preparation in Cleveland, GA and Surrounding Areas
Many seniors struggle to maintain a healthy diet due to age-related issues that may prevent them from the physical demands of cooking, cleaning up, or even grocery shopping for ingredients. This causes seniors to adopt unhealthy eating habits that can worsen their condition and decrease their quality of life. At Visiting Angels of Cleveland, our family home care services include assisting seniors with meal preparation and planning to prevent these issues.
Visiting Angels Offers Family Home Care Services for Meal Preparation in Cleveland, Toccoa, and Nearby Towns
At Visiting Angels of Cleveland, we strive to help our clients live active, healthy, and enriched lives so they can comfortably enjoy their golden years. Our meal preparation services have helped many seniors improve the quality of their lives and allow them to maintain their independence as well.
Why Healthy Eating Can Be Challenging for Seniors
Loss of mobility or strength - A loss of strength and mobility can make it nearly impossible for seniors to lift heavy groceries and cooking pans or are unable to drive themselves back and forth to the supermarket.
The "convenience" of frozen meals and fast food - Without easy access to a grocery store or the ability to cook, many seniors opt for the convenience of cheap fast food or frozen meals. However, this highly processed food is often full of salt and lacks the essential nutrients your loved ones need.
Lack of appetite due to medication or depression - Some seniors attribute their unhealthy eating habits to their medication or even clinical depression. Many times, these can cause seniors to feel like they are not hungry or do not feel they have the energy to eat, which can lead them to skip some meals altogether.
The good news is that our family home care services are here to help. Our caregivers will get quality ingredients and assist with meal preparation that your loved ones will enjoy.
What's Included in Meal Planning from Visiting Angels of Cleveland
If you are worried that your loved one is not eating well or skipping meals then we are here to help! Our professionally trained caregivers assist with meal planning and preparation so that you can rest assured your loved ones are getting the nutrients they need.
Meal preparation can include:
Caregivers either accompany your loved one to the store or head there alone with a list of things to buy
Preparing snacks and meals such as pre-cut veggies, sandwiches, and other favorites
Helping with kitchen organization to make plates, utensils, and pantry items low enough for your loved one to access safely
Storing leftovers and cleaning up any dishes
Taking out the trash as needed
If you think that you or a loved one could benefit from our family home care services then do not hesitate to reach out today!
Schedule your FREE, In-Home Assessment Today
Schedule your free, in-home assessment today by contacting Visiting Angels of Cleveland by clicking one of the links below. We will be happy to discuss our respite care and go over any questions you have about our family home care services.
Contact Visiting Angels of Cleveland to learn more about how our senior care services can assist!


Serving North Hall, East Lumpkin, White, Habersham, Stephens, and Rabun Counties
Visiting Angels
CLEVELAND, GA
24 W Jarrard St
Cleveland, GA 30528
Phone: 706-219-1415