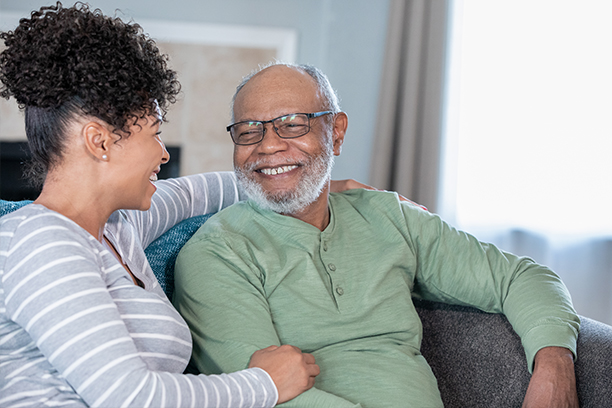 Our Home Care Specialists Provide Long-Distance Care Solutions for Seniors in San Diego, CA and Surrounding Areas
If you live outside the San Diego area, our home care specialists can work with you to make sure your loved one gets the care and support they need
When you work, have a family of your own and have a lot of other obligations, providing your aging loved one with the level of care can be difficult. Instead, hiring professional home care specialists who will look after them when you cannot become a permanent solution. But what happens when you and your loved one do not live in the same area?
Adult children who live hundreds of miles from their parents find organizing care challenging. However, it doesn't have to be.
With Visiting Angels San Diego, you can easily ensure that your loved one will receive the level of care they need. We understand that families who live on opposite sides of the country struggle with organizing senior care services. That is why we offer help with coordinating long-distance caregiving.
You can rest assured that your loved one will receive high-quality care delivered by our home care specialists and age comfortably in place. In addition, you will stay informed about their condition and have one less worry on your mind.
Long-Distance Caregiving Services from Visiting Angels San Diego
A lot of people in the United States live far away from their close family members. Grown-up children move away because of job offers or personal circumstances, while seniors often decide to spend their golden years someplace where it is warm and sunny all year round. Close family members easily end up on the opposite sides of the country which can create a problem when it comes to organizing care.
Fortunately, with our senior care solutions, you can easily overcome these distances and coordinate care for elderly loved ones who live in a different city, or even a different state.
If your aging loved one lives in Coastal or Central Metro San Diego and requires our long-distance caregiving services, contact our office. Our staff members will inform you about your care options, answer your questions and coordinate a detailed care consultation for your parent.
As a part of our long-distance caregiving services, we will meet personally with your loved one and consult with them, while we will organize a detailed phone consultation with you. After matching your loved one with the right caregiver, we will start proving care. You can rest assured that you will stay up to date on your loved one's physical, mental, and emotional well-being.
To ensure that your parent is completely satisfied with our caregivers and senior care services, we will perform drop-in visits and check-in calls.
Get Started with Our Home Care Specialists Today!
Whenever you have questions or doubts about your parent's care or our caregivers, feel free to contact our San Diego, CA office and we will provide you with the information you need.
Serving Mission Valley, Point Loma, Kensington, the College Area and surrounding neighborhoods in Downtown, Uptown and Peninsula communities of San Diego, including Coronado
Visiting Angels
SAN DIEGO METRO AREA, CA
2615 Camino Del Rio S. #308
San Diego, CA 92108
Phone: 619-488-6265
Fax: 619-488-6311