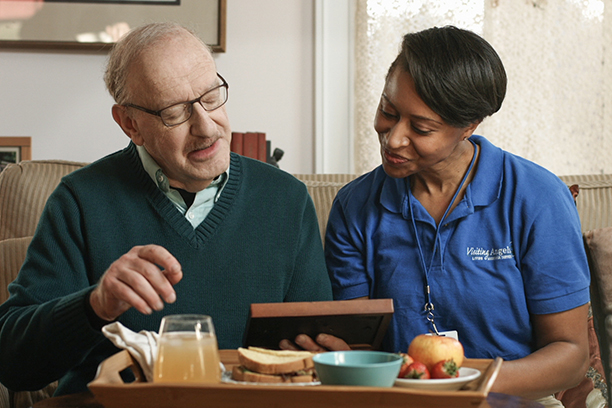 Respite Care for Seniors and Family Caregivers in San Diego, CA
With respite care from Visiting Angels, family caregivers in Point Loma, Kensington, the College Area and surrounding communities of San Diego, CA, including Coronado, can receive assistance with providing in-home care for an elderly loved one, allowing them to take time to relax and focus on their other priorities
Being there to take care of a loved one when they are in need is one of the most caring acts you can do. Whether that is a parent that is dealing with the symptoms of Alzheimer's or dementia, or a disabled family member, you're providing the help they need in order to live at home. But what about when you need a break from this work? This is where Visiting Angels San Diego can come in and help by providing quality in-home respite care.
What is Respite Care?
"I am so grateful for Visiting Angels. I have had a really hard time finding quality care for my aunt who needs home care until I found Visiting Angels. I called and spoke with Lauren who made the entire process very easy for me. I'm very busy and work a lot and knowing that I can still get her the best care means a lot to me. Thanks Visiting Angels!"
- Bryce G.
Respite home care services can come about to enable a temporary or long-term relief for primary caregivers. While providing in-home care for a senior loved one, many family members can exhibit stress and emotional exhaustion from having to provide continual care while managing their personal lives. Our services allow the much-needed breaks that family members need in order to tend to their own lives while ensuring that their senior loved one continues to receive the quality of care they need.
A caregiver from Visiting Angels San Diego can provide help to seniors with a variety of tasks inside the home, including help with meal preparation, light housekeeping, laundry and much needed companionship.
Why Choose Personalized In-Home Care Services from Visiting Angels San Diego?
The in-home care that Visiting Angels San Diego provides is designed to fit the specific needs of your senior loved one while taking into account both of your schedules. This is why our highly trained caregivers can visit your senior loved one at their home as frequently as you would like and on a long-term basis.
Our respite care services are available all days of the week and on holidays, and at any time during the day. One of our care coordinators will work with you and your senior member to come up with a personalized care plan that is custom-tailored to the needs and desires of your senior loved one.
The ultimate goal is to allow you to be relieved of the caretaking duties and to allow a professional caregiver to continue providing the compassionate care that they need.
Our caregivers can visit for a few hours a day or on a daily basis to provide your senior member with help doing those daily tasks they need to do to remain independent and comfortable. While providing companionship, our caregivers can also help with a variety of home care needs. This can include personal care needs, help with dressing and light housekeeping, or just performing simple chores. Our caregivers' engaged care will make your senior loved one look forward to our visits.
To get started with respite care for your senior loved one, get in contact with our San Diego, CA office today to schedule your free in-home consultation.


Serving Mission Valley, Point Loma, Kensington, the College Area and surrounding neighborhoods in Downtown, Uptown and Peninsula communities of San Diego, including Coronado
Visiting Angels
SAN DIEGO METRO AREA, CA
2615 Camino Del Rio S. #308
San Diego, CA 92108
Phone: 619-488-6265
Fax: 619-488-6311