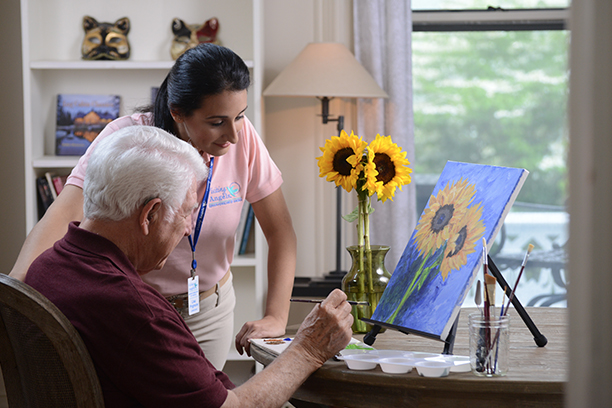 Home Care Options for Seniors in San Diego Remain Independent
Whether your loved one needs professional care at home due to gradual health decline, an unexpected illness, or injury, you may be at a loss for what to do next. Even families aware that their loved ones will soon require expert assistance often feel overwhelmed when the time comes to start with care.
This is all perfectly normal. It can be shocking to realize that your parent is not as young, strong, or healthy as they once were. Instead of you turning to them for help, they now need you more than you need them.
At Visiting Angels San Diego, we understand how difficult this time is for your family, and we are here to help. We offer many home care options for seniors in San Diego and surrounding communities, and we can ensure that you choose the best care solution for your loved one. We have already helped thousands of families with the same concerns and questions as yours, and with our guidance, you can once again find peace of mind.
Home Care Options for Seniors in San Diego, Mission Valley, and the Surrounding Area
Aging in place is a term in the caregiver industry used to denote the ability of seniors to remain at home in their senior years as opposed to moving to a care facility like a nursing home. At Visiting Angels San Diego, we developed a range of in-home senior care services to ensure that all older adults who wish to age at home can get the support they require for a safe, independent life.
We provide assistance with activities of daily living (basic activities like meal preparation and personal hygiene) and incidental activities of daily living (activities like housekeeping, running errands, social interaction…) for a holistic approach to care that takes into account physical, mental, emotional and social needs.
Here are some of our home care options available in San Diego:
With one-on-one support from a trained caregiver, your loved one can enjoy all the benefits of professional senior care without having to move out of their home, change their routine or make any unwanted compromises.
When you start working with us, we will first present all the home care options at your disposal. We will work with your family to build a personalized care plan for your loved one and match them with a compatible caregiver. To put your mind at ease, you can also Select Your Caregiver. It is important to note that our care plans are not set in stone; you can adjust your parent's plan anytime. Our services are available 24/7, including weekends and holidays, and you can opt for part-time, full-time, and non-stop care – or anything in between.
If you want to learn more about our home care options, please contact our San Diego, CA office at 619-488-6265. Our initial consultation is free of charge and also includes a home safety assessment.
Serving Mission Valley, Point Loma, Kensington, the College Area and surrounding neighborhoods in Downtown, Uptown and Peninsula communities of San Diego, including Coronado
Visiting Angels
SAN DIEGO METRO AREA, CA
2615 Camino Del Rio S. #308
San Diego, CA 92108
Phone: 619-488-6265
Fax: 619-488-6311