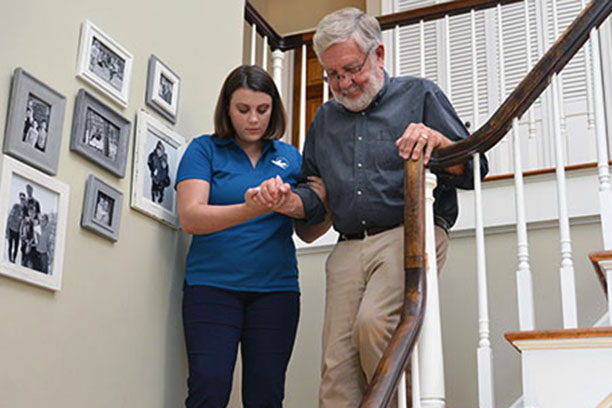 Fall Prevention Solutions from Visiting Angels San Diego
Our in-home care providers help seniors in San Diego, Coronado, CA and surrounding areas stay safe with comprehensive fall prevention solutions
For many aging adults, falls pose a serious health risk and can even be life-threatening events. Besides the evident physical injury, falls can also cause much emotional discomfort and affect one's social well-being. What's more, after a fall, seniors often develop a fear of falling, which may prevent them from staying physically active, going out, and accepting social invitations. This can eventually lead to a reduced quality of life and loss of independence.
Fortunately, with the assistance from our expert in-home care providers at Visiting Angels San Diego, some good planning and certain home modifications, falls can be easily prevented.
Falls Can Be Life-Changing
To see how falls and fall-related injuries can change a senior's life for the worse, take a look at the following facts:
One-third of older adults fall at least once a year. From those who do fall, 1 in 5 individuals ends up with a broken hip, fractures, concussions, or other serious injuries.
When seniors fall once, they are more likely to fall again.
As much as 800,000 seniors get hospitalized each year as a direct result of falls.
Recovery from fall-related injuries can take up to a full year and is usually rather costly.
Falls Do Not Just Happen
Most fall accidents are typically caused by one or several risk factors. In the elderly, risk factors can be anything that increases one's chances of falling. This can be related to existing medical problems, physical limitations, unfit home environment, slippery or uneven outdoor surfaces. Additionally, poor vision, arthritis, medication side effects, dehydration and lack of grab bars in the bathroom are some common fall risk examples.
At Visiting Angels San Diego, our specially trained caregivers can help identify the likelihood of falls based on your loved one's specific circumstances and promptly work toward eliminating the detected fall risks. This way, many falls can be prevented.
How In-Home Care Providers from Visiting Angels San Diego Help Seniors Stay Safe
As fall prevention continues to be a considerable challenge for many independently living seniors in our community, Visiting Angels San Diego is dedicated to providing ongoing education for older adults and their families about the seriousness of the matter. Together, we can significantly reduce, if not eliminate falls, helping local seniors maintain overall health and high quality of life throughout their golden years.
Contact our San Diego, CA office today to learn about fall prevention and how our in-home care providers can help your senior loved one.
Serving Mission Valley, Point Loma, Kensington, the College Area and surrounding neighborhoods in Downtown, Uptown and Peninsula communities of San Diego, including Coronado
Visiting Angels
SAN DIEGO METRO AREA, CA
2615 Camino Del Rio S. #308
San Diego, CA 92108
Phone: 619-488-6265
Fax: 619-488-6311