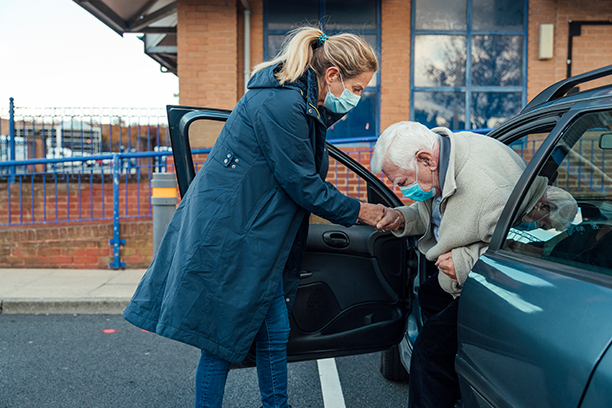 Visiting Angels Provides In Home Living Assistance to Weldon Springs, MO
Visiting Angels Provides In Home Living Assistance to the Weldon Springs Area
Visiting Angels Weldon Springs, MO
Does your mother and father want to stay together, in the comforting surroundings of their own home, but their health issues make this impossible? At Visiting Angels, we can help – as an in-home health agency we help seniors remain safe and independent. Our unique programs provide qualified, compassionate caregivers that support adults and seniors in Weldon Springs, Missouri. If you believe a family member would benefit from a in home living assistance agency for elder care, contact Visiting Angels today – we are here to assist you and your family.
Get Help – When You Need It Most!
Visiting Angles of Weldon Springs provides in home living assistance to clients wherever and whenever they need it. Clients can choose from hourly care daily, assistance a few hours a week, or as much as 24-hour personalized care and companionship. Our in-home supportive services include personal care, help with hygiene (bathing, grooming, and dressing), respite care, transitional home care, Alzheimer's care, and end of life care. Rest assured that we will work closely with your family to create a fully customized care plan that addresses every one of your loved one's needs.
Does your elderly mother need assistance with house cleaning and food preparation? Does your senior father require help for running errands and grocery shopping? Do you have a disabled loved one who is lonely and in need of companionship and conversation? No matter the in-home supportive services needed, we will be there for them.
Caring Home Health Aides
Life-enrichment activities are another feature included in our in-home care plans. With a caring home health aide by their side, your senior can enjoy fun pastimes such as playing cards, going for a walk at the local park, partake in a favorite hobby, or reminiscing over old family photos – all things that are included in each of our personalized care programs.
When there is a qualified member of our Visiting Angels team with your loved one, there is no need to worry about them when they go out for medical appointments, social events, or when they are spending the day outside. Whether it is a doctor's visit at CenterPointe Hospital, a scrumptious meal at Mad Dog and Cat's Restaurant and Bar, or an afternoon fishing at Weldon Spring City Park, Visiting Angels of Weldon Springs, will do everything possible to keep your beloved elder safe, secure, and engaged in Weldon Springs and other local communities.
If you need in home living assistance or believe a family member would benefit from having elder care assistance, then contact Visiting Angels today for more information or to book a free assessment.
Serving St. Peters, St. Charles, Orchard Farm, Cottleville, Weldon Spring, and the communities of Greater St. Charles
Visiting Angels GREATER ST. CHARLES, MO
221 Spencer Rd #K
St Peters, MO 63376
Phone: 636-244-3777
636-244-3778