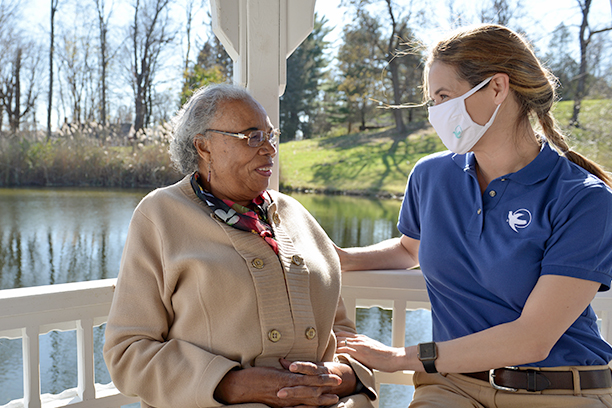 Visiting Angels Home Care in St. Charles, MO Provides Palliative Care To Seniors
Visiting Angels Home Care in St. Charles Provides Palliative Care to Seniors Within the Area
Palliative care is common for those who are being treated for the side effects of injuries or illnesses. This is typically for chronic conditions, rather than life-threatening ones.
If your loved one is suffering from a debilitating condition, Visiting Angels' home care in St. Charles can support both you and your loved one through this hard time. Although your loved one may be suffering right now, our care will make it much more tolerable for him or her.
When it comes to our care, you should know these two things:
Palliative Care Has A Different Goal Than Hospice Care
Palliative care is often seen as being similar to hospice care, however, the goals couldn't be more different. Treatment of illness with hopes of potential recovery is the goal.
Alternatively, hospice care is not focused on recovery at all. While it does attempt to provide comfort in a time of suffering, it is limited to those who have a terminal condition.
Should your loved one have a non-terminal condition that requires care for relief and recovery, looking into care from Visiting Angels St. Charles, MO might be a good idea.
It Restores Physical And Emotional Health
Palliative care is versatile in its application, restoring both physical and emotional health in recipients. Medical care is helpful in relieving pain, but it often doesn't accommodate the emotional needs of the person receiving care.
If you feel that your loved one needs someone to interact with on a daily basis, you should consider bringing in one of our caregivers. Every Visiting Angels St. Charles caregivers are committed to fulfilling your loved one's emotional needs.
Usually, Care Is Partly Covered
The good thing about Visiting Angels' home care is that it is usually covered, at least partially, by insurance companies, Medicare and Medicaid. This typically covers visits from various medical professionals. Other things that may be covered are:
Therapy
Caregivers
Procedures
Medical materials
Temporary care
Prescription costs
Various counseling services
If you have more questions about our care, contact Visiting Angels' home care in St. Charles to schedule your free in home care assessment.
Serving St. Peters, St. Charles, Orchard Farm, Cottleville, Weldon Spring, and the communities of Greater St. Charles
Visiting Angels
GREATER ST. CHARLES, MO
221 Spencer Rd #K
St Peters, MO 63376
Phone: 636-244-3777
636-244-3778
Fax: 636-244-3780