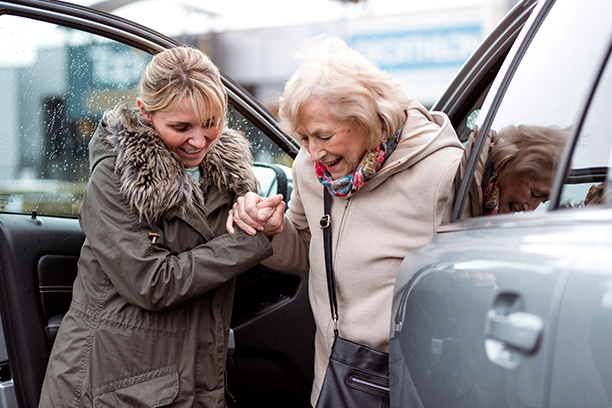 Elder Care Options for Mobility Assistance in Bedford, NH
Visiting Angels of Auburn's Elder Care Options in Bedford Helps Seniors Engage in Activities Outside Their Home
With elder care options and mobility assistance in the Bedford, NH area, Visiting Angels of Auburn help your aging loved one gain independence and confidence, all while remaining a supportive presence as your elder enjoys more freedom and fun. When you increase a senior's ability to move, even by a small fraction, it substantially impacts their life. Suddenly, they're no longer limited to their own home, sometimes, even their own bed. Instead, their lives change, and their days become full of endless possibilities.
Improve Quality of Life with Increased Mobility
As the caregiver of your aging loved one, you take on the responsibilities of a great many things. From doctor's visits to feeding schedules, taking care of your senior can get a bit overwhelming. As such, it's crucial to consider the various elder care options available. Not only will it significantly improve your loved one's quality of life, but it will also enhance yours as well, relieving some of the burdens of responsibility. With caring, trustworthy helpers, your beloved senior will enjoy some of the things they used to appreciate such as walks in the park, visiting friends, doing their own groceries, and going to the museum. Thanks to their new-found independence, their emotional, mental and physical health will also see improvement.
The Comfort of Knowing a Caring Hand is Nearby
Other elder care options for mobility assistance includes positioning and transferring. Depending on their health issues and physical strength, some seniors might have limited mobility and must remain in bed. Sitting and laying down may be their only position choices. In such cases, care providers can help with positioning, which alleviates certain parts of the body that experience high amounts of pressure. Thus, positioning improves breathing and digestion as well as supports proper muscle movement.
Having Fun When You're Physically Limited
A leisurely walk along the lovely Sebbins Pond. A summer picnic at Reeds Ferry State Forest. A tranquil afternoon bird-watching at the Meadows of Joppa Hill. A nice cup of tea and a visit with friends at The Inside Scoop. These are all prime examples of how your senior parent can enjoy their new-found freedom with a reliable companion by their side. Typically, inactive seniors have lower levels of emotional and physical well-being. But with home care, lonely elders can experience the great outdoors again. With an increase in social activities and regular companionship, seniors can have fun again in Bedford, NH!
Contact our agency today to learn how our elder care options can help your loved one in Bedford!
Serving Candia, Manchester, Bedford, Derry, Londonderry, Hooksett, Auburn, Raymond, Salem, Concord, Bow, Goffstown, Dunbarton, Weare & Suncook, NH
Visiting Angels
AUBURN, NEW HAMPSHIRE
14 Hooksett Rd
Auburn, NH 03032
Phone: 603-838-3126
Fax: 603-483-8922