Caregiver Jobs for

CNAs and Professional Caregivers
Make a Positive Impact on Someone's Life and Yours – Join Our Team Today!
Visiting Angels caregivers help those who cannot help themselves, allowing seniors to remain in the place they love most, their own home. Are you looking to make a meaningful contribution to society? Do you feel great when you're helping the elderly? If you've answered yes to both questions, then Visiting Angels, a leader among home health aide agencies, would love to talk to you! We're in search of one-of-a-kind individuals to work with our clients, individuals who are cheerful, dependable, and compassionate. People who believe in personal accountability. When you work with us, we strive to give you the ideal schedule considering your personal needs to create a work schedule and environment that is a great fit for you. Simply pick when and where you prefer to work and we'll put together a schedule that matches!
Visiting Angels of Auburn, A Place You'll Love to Work
Why One on One Caregiving?
We provide one-on-one assistance with certified, experienced caregivers to allow seniors to stay at home in the comfort of familiar surroundings. For many of our elderly clients, everyday tasks are difficult, sometimes impossible. Whether it's running errands, driving them to a medical appointment, helping with meals, taking them shopping, going with them to visit a friend, laundry, personal care, or keeping the house clean, our support team will lend a helping hand. While these tasks are essential, there is one very crucial task our care providers perform that comes above all others, helping elderly clients reengage in activities and enjoy their lives again! As one of our companion aides, that's where you shine, finding your greatest personal satisfaction in such a meaningful goal.
What Visiting Angels Can Offer You
As a home care aide working for Visiting Angels, you'll have these benefits:
Working a schedule that you decide

Competitive pay with opportunities for bonuses

Retirement plan with company match

Outstanding Caregiver Bonus Program

Paid time off

Life Insurance

Paid training and continuing education

Supportive staff and management to help you achieve your goals

Advanced certification in specialized care

Opportunity to be placed close to home
Caregivers Make Our Agency Work, So We Take Caregiver Feedback Seriously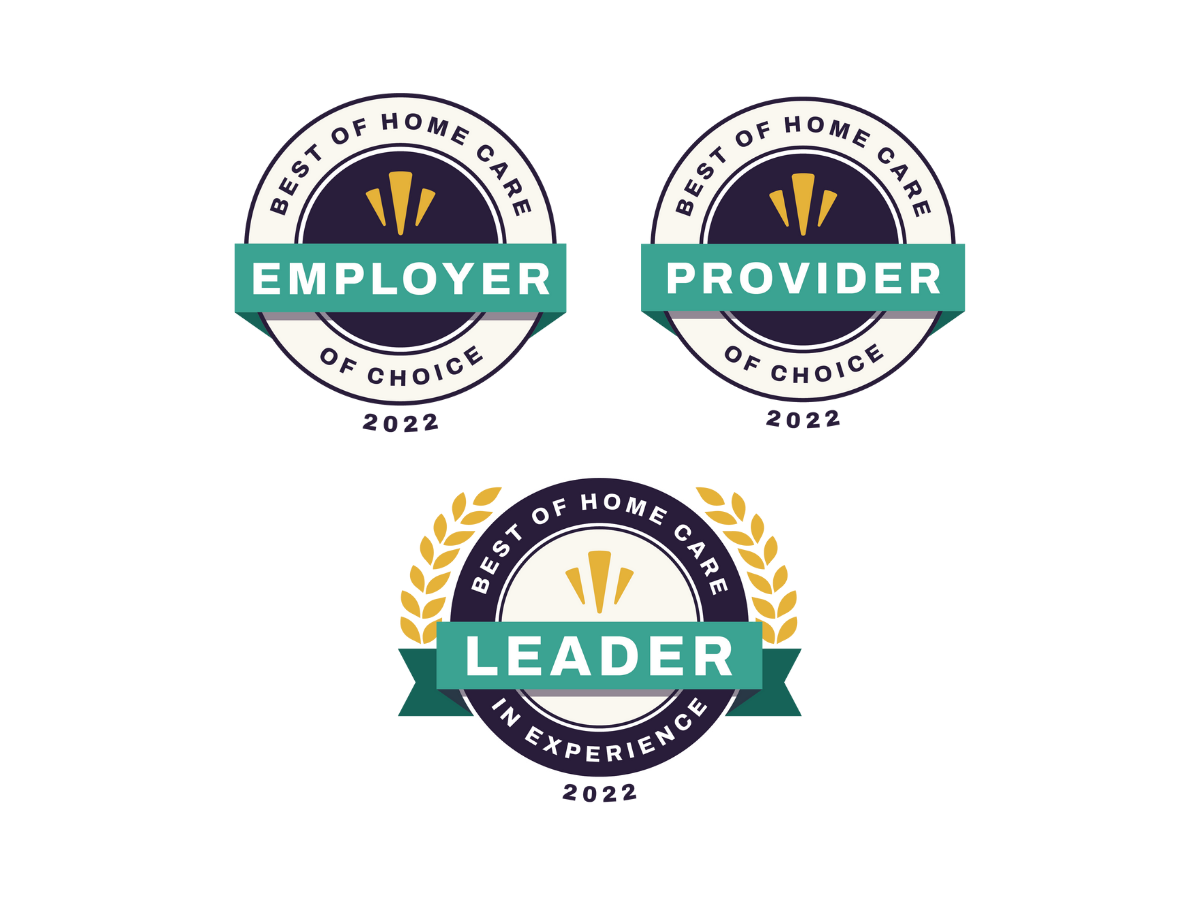 When it comes to the happiness of our caregivers, we take it very seriously. So seriously, that we've hired an outside company to help us gauge our progress: Home Care Plus. Each month, this company calls the caregivers that are currently working for us and asks them what they like and don't like about working for us. We thrive off of honest, anonymous feedback to constantly improve what we do for our caregivers
In 2022, we received all three Home Care Pulse Awards: Leader in Excellence, Provider of Choice, and Employer of Choice. In 2021 and 2020, we received the Leader in Excellence Award from Home Care Plus for the outstanding caregiver and client satisfaction. According to Home Care Pulse, 97% of our caregivers feel respected by their superior and 96% would recommend employment at Visiting Angels of Auburn to a friend!
If you would like to be contacted about any employment opportunities, please fill out the form below.