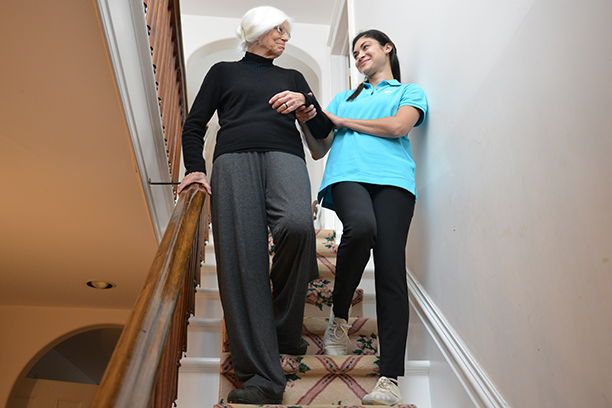 Meal Preparation and Home Care Solutions in Greater Auburn, NH
It can be challenging for seniors to maintain a proper diet and nutrition plan alone-- therefore, this has become a cornerstone of quality elder home care solutions offered by Visiting Angels of Auburn. Our care agency ensures that all clients receive the proper nutritional diet requirements they need to stay happy, healthy, and fit in Auburn, NH, and the surrounding area. Regardless of food restrictions (gluten-free, diabetic, or low-sodium), our team of providers will always be there to ensure that your loved one has access to freshly prepared food and healthy meal options.
Visiting Angels of Auburn's Home Care Solutions Help Seniors Maintain a Healthy Diet in Auburn, NH, and the Surrounding Areas.
Over time, our bodies age and need a specialized diet due to physical needs changing over time. Regardless of age, Visiting Angels of Auburn makes sure that our seniors correctly eat while maintaining a healthy level of exercise while receiving care from any of our home care solutions. The US food guidelines shared that seniors are needed to keep a wholesome diet high in vitamins and minerals-- these are nutritional components that will lower the risk of health issues, such as high blood pressure and osteoporosis. It is common for seniors to lose their appetite with age, typically because of medication side effects or lack of activity; however, it is essential that they still indulge in a healthy nutritional diet.
We Will Care for Your Loved Ones
We are an agency filled with specialized home care providers that have the experience with food preparation that you and your seniors are looking for; caregivers can show their ability of a clear understanding of senior dietary needs. Many seniors who are left alone cannot monitor their diets; this is usually due to limited mobility, memory issues, or inadequate access to fresh food. When they have access to a Visiting Angels of Auburn caregiver, they have the reassurance that they can maintain a proper nutritional and healthy diet. A caregiver can keep your senior's home stocked with healthy food and fresh produce that coincide with meal plans and food choices. Visiting Angels' home care solutions will ensure that your loved one's dietary preferences are being met.
Learn More About Our Services
Contact our offices today if you are looking to learn more about home care solutions from Visiting Angels of Auburn! Our care team is happy to review our services or answer any questions you may have. We can schedule a no-cost, in-home assessment with one of our care coordinators to discuss your loved one's specific needs, schedule, and budget during this call.
We look forward to speaking with you!


Serving Manchester, Derry, Concord, Auburn NH and the Surrounding Area
Visiting Angels
AUBURN, NH
14 Hookset Rd,
Auburn, NH 03032
Phone: 603-483-8999