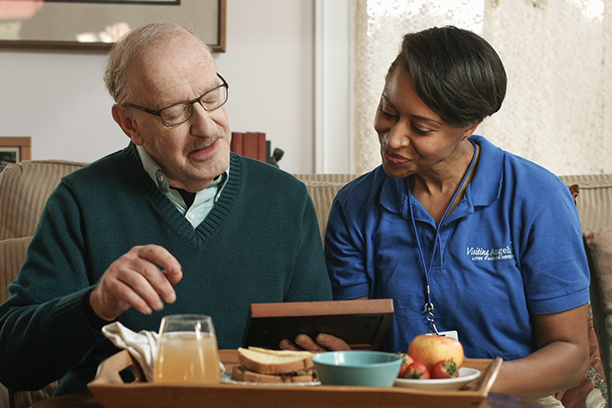 Our Home Care Agency Offers Certified Palliative Care to Seniors in Greater Auburn, NH
At Our Home Care Agency, Our Caregivers Are Dedicated to Providing Holistic Care to Seniors in Auburn, Manchester, Bedford, Candia, and Surrounding Areas



Certified palliative care enhances the quality of a senior's life by concentrating on their emotional, physical, spiritual, and social needs. When you hear the term palliative care, you may have certain assumptions about our home care agency. However, our care reaches beyond what's typically associated with home palliative care. With Visiting Angels caregivers, your senior family member is assured comfort and assistance, no matter their life expectancy.
The Difference Between Hospice Care and Palliative Care
Oftentimes, individuals interchange the terms "hospice care" and "palliative care." However, traditionally, these two types of care are entirely different. Indeed, they do both hold many similarities, and at their very crux, improve quality of life and aim to alleviate discomfort. Yet, while palliative care focuses on seniors who require attention that's targeted towards their well-being and comfort, regardless of life expectancy, hospice care is generally for those nearing their end of life.
Our home care agency approaches palliative care traditionally, enriching your senior family member's way of life via specialized assistance and care.
Certified Palliative Care Program
Through our various Life Care Navigation senior care services, our caregivers provide Certified Palliative Care. End of life care is also accessible through Life Care Navigation, which gives your beloved senior caring assistance and companionship during the end of life process.
Our specialized Palliative Care Certification Program educates our care providers, teaching them our philosophy of care, a holistic mindset which encompasses comfort, compassion, and support. In order to do so, our goal is to address a vaster range of care requirements, including the spiritual, social, and emotional needs of our clients, not merely the physical aspect of care.
The Physical Aspect: We help seniors stay healthy and strong through meal planning, fall prevention, and providing essential care services to help.
The Emotional Aspect: We take a compassionate viewpoint, helping elders who may suffer from anxiety, stress, loneliness or depression.
The Social Aspect: We build connections with our seniors as well as their families, and provide them with conversation and companionship.
The Spiritual Aspect: We restore hope to elders' lives, treat them with respect, and give them support so they can find relief and comfort from age-related difficulties.
Contact Us Today to Learn More
Want to learn more about our approach to palliative care? Give us a call by contacting our home care agency at 603-838-3126 to schedule a free care assessment today.
Serving Candia, Manchester, Bedford, Derry, Londonderry, Hooksett, Auburn, Raymond, Salem, Concord, Bow, Goffstown, Dunbarton, Weare & Suncook, NH
Visiting Angels
AUBURN, NEW HAMPSHIRE
14 Hooksett Rd
Auburn, NH 03032
Phone: 603-838-3126
Fax: 603-483-8922