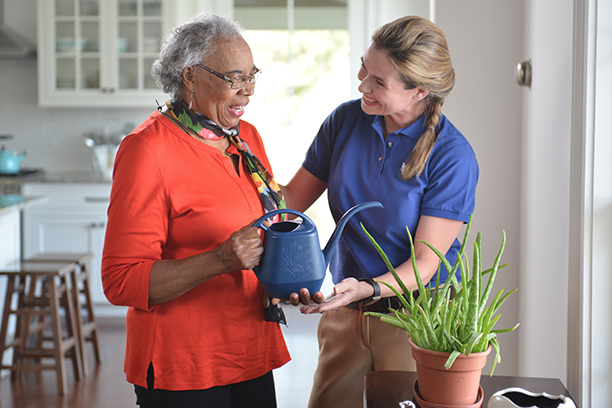 When a Loved One Needs Memory Care, Senior Home Care Services Can Grant the Ability to Stay at Home Longer in Auburn, NH
Visiting Angels Offers Home Care Services to Seniors with Cognitive Impairment in Auburn, Manchester, Candia, and Surrounding Neighborhoods
Recognizing that a loved one need memory care can be upsetting for families. Your loved one may have been diagnosed with Alzheimer's, dementia, or sundowner's syndrome, or you may have observed a need in their life for more mental and emotional health assistance. Visiting Angels of Auburn is here to assist you. We think that every senior should be able to age in place, preferring the comfort and freedom of their own home over the proximity of friends and relatives. Senior home care may empower your loved one while also promoting overall wellness.
Questions You May Be Asking
When you first discover that a loved one has Alzheimer's, dementia, or another cognitive condition, many ideas run through your head. Is your loved one secure in their regular activities? How can you assist them in keeping their health as long as possible? Will they be forced to abandon their home and community? The severity of your loved one's symptoms, as with any other condition, and the impact on your loved one's health will decide the type of home care that is required.
Our Memory Care Services
At Visiting Angels of Auburn, we offer care for those with Alzheimer's or dementia diagnoses that can help your loved one remain comfortable at home for longer. More than 5.1 million Americans face Alzheimer's every day with the help of family, friends, community, caregivers, and other services.
Our in-home care services are totally customizable, which means you are always in control of the schedule, cost of care, and types of support we give. Through one-on-one help and cooperation, a devoted caregiver will attempt to establish a trusted and respectful connection with your loved one. That caregiver can help with food preparation, mobility issues, washing and linen changes, light housework, personal care, and a variety of other tasks.
Memory care services for your loved one may include emotional support, assistance with a hobby or pastime, or companionship while browsing through picture albums and memorabilia. By delivering a daily wellness check and an update on your loved one's health, home care services may also provide your family with more peace of mind.
Learn More Today
If your loved one has been diagnosed with a cognitive disease, or memory care is needed to help them attain their best possible quality of life, Visiting Angels of Auburn is ready to help. Contact us or your local agency today to learn more about our comprehensive memory care services.
Serving Candia, Manchester, Bedford, Derry, Londonderry, Hooksett, Auburn, Raymond, Salem, Concord, Bow, Goffstown, Dunbarton, Weare & Suncook, NH
Visiting Angels
AUBURN, NEW HAMPSHIRE
14 Hooksett Rd
Auburn, NH 03032
Phone: 603-838-3126
Fax: 603-483-8922