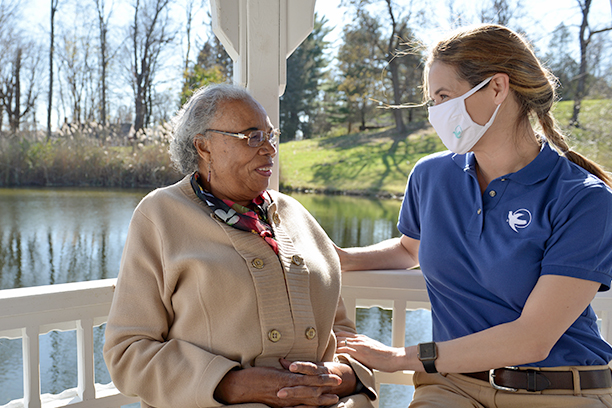 Dementia Care from the Best Home Care Providers in Auburn, NH
Visiting Angels Auburn, NH best home care providers can assist your loved one with our dementia care.
Dementia causes changes in the brain of the people it affects. This explains why the behaviors of loved ones who are suffering can often seem erratic. It's not uncommon for a person with dementia or Alzheimer's to exhibit behavior problems such as confusion, paranoia, sadness, or anger. It's important to keep in mind that these changes are actually quite common in the disease. Being aware of them so that you can respond calmly and not take things personally is key when caring for a loved one with dementia. Some of the best home care providers and dementia experts have put together suggestions for living with a loved one that has dementia.
Aggression may be seen, both physically and verbally, in patients with dementia. The Alzheimer's Association advises that aggression is usually the result of fear. Fear may be coming from physical discomfort, new situations, or communication frustrations. An escalated response to these situations can end with a scared loved one becoming physically aggressive. The best home care providers know that the ideal way to respond in this situation is to try and discover the source of the aggression. Redirecting the focus to something else while maintaining a calm demeanor is a proven strategy when dealing with dementia-related aggression. Having an outside source for respite care can give family caregivers a needed break. Dementia services from Visiting Angels Auburn, NH gives you time to regroup while your loved one is tended to by a compassionate professional.
Confusion regarding time and place are common among dementia sufferers. Not understanding where they are or why leads to confusion. According to the Alzheimer's Association, long explanations are not helpful in this situation. Tangible reminders such as photographs can be helpful. Again, redirecting can also be helpful. If a loved one is being moved from their home, the concept of where they're going, when, and why can be particularly difficult to understand. In cases like these, you may want to have a caregiver visit the home instead. Visiting Angels has some of the best home care providers throughout New Hampshire, and we can assist families if a loved one has dementia.
Lastly, cognitive issues and poor judgment are frequently seen during the progression of dementia. As brain cells deteriorate, they can add to delusions or errors in thinking. Accusing loved ones of stealing and difficulties with finances are two common ways this shows up. If you suspect a family member is having trouble with bills or managing their money, start by taking a look at their accounts to see if there are delinquent payments. Conversations that are reassuring and supportive can help minimize concerns in this area.
Knowing the best ways to deal with common dementia behaviors can make caring for a loved easier on you both. Visiting Angels Auburn, NH offers the best home care providers to help you. We can provide dementia care, personal care, conservation, and much more.
Serving Candia, Manchester, Bedford, Derry, Londonderry, Hooksett, Auburn, Raymond, Salem, Concord, Bow, Goffstown, Dunbarton, Weare & Suncook, NH
Visiting Angels
AUBURN, NEW HAMPSHIRE
14 Hooksett Rd
Auburn, NH 03032
Phone: 603-838-3126
Fax: 603-483-8922