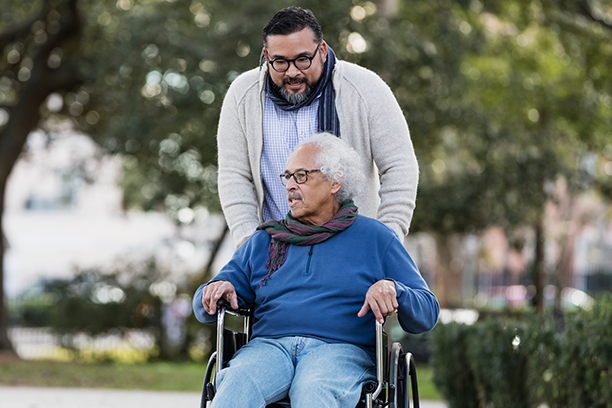 Memory Care Solutions for Seniors in Broomfield, CO and Surrounding Areas
Visiting Angels can help you understand how to provide the care your loved one needs after being diagnosed with Alzheimer's, including your options for professional memory care in Broomfield, Northglenn, Westminster and surrounding areas in Colorado
Alzheimer's disease causes memory loss and leads to decline in thinking skills. Nowadays, more than 5 million Americans are struggling with this illness. Although the cure for Alzheimer's still hasn't been found, there are some ways the worsening of dementia symptoms can be slowed down.
If you have noticed that your loved one is showing some common symptoms of Alzheimer's, you should get them to their physician as soon as possible. In case they are diagnosed with this disease, you need to get an Alzheimer's care team and come up with a care plan as soon as possible in order to improve your loved one's quality of life.
Common Warning Signs of Alzheimer's
The most common sign that a senior has Alzheimer's is memory loss. If your parent is not remembering names, places, people, events, what day it is or how to engage in their favorite activities, you should visit a doctor. Also, seniors who are struggling with this disease often have trouble keeping track of monthly bills, cannot concentrate and take much longer to do things than before.
If your loved one has difficulty reading, judging distance, determining color or contrast, finding the appropriate words, completing sentences and is often misplacing things, you should consider having them evaluated by a physician and screened for Alzheimer's. Seniors with this disease often have mood swings as well and not interested in engaging in usual activities.
Keep in mind that Alzheimer's is not a normal part of aging and all of these symptoms will gradually increase and become more persistent.
How to Get Your Loved One the Memory Care They Need from Visiting Angels Broomfield
If your loved one gets diagnosed with Alzheimer's it is important to make decisions regarding Alzheimer's care as soon as possible so you can manage the disease as much as possible. Here are some steps you should take if your parent has been diagnosed:
Take care of financial, legal and long-term care planning problems - Talk to your family and loved one about future memory care possibilities and end-of-life issues.
Provide cognitive stimulation – Seniors who have been diagnosed with Alzheimer's can greatly benefit from listening to music, solving word puzzles and playing memory games.
Arrange respite or regular in-home care - When it comes to providing your loved one with the right level of care, you will need help, even for just a few hours a week. Visiting Angels Broomfield offers trained and skilled professionals who have experience with dementia care clients.
If your loved one has been diagnosed with Alzheimer's, we are here to help. Contact us and learn more about memory care services we provide in Westminster, Denver, Broomfield and surrounding Colorado communities.
Serving Broomfield, Westminster, Northglenn and the Northern Denver Suburbs
Visiting Angels
BROOMFIELD, CO
350 Interlocken Blvd #110
Broomfield, CO 80021
Phone: 303-650-2881