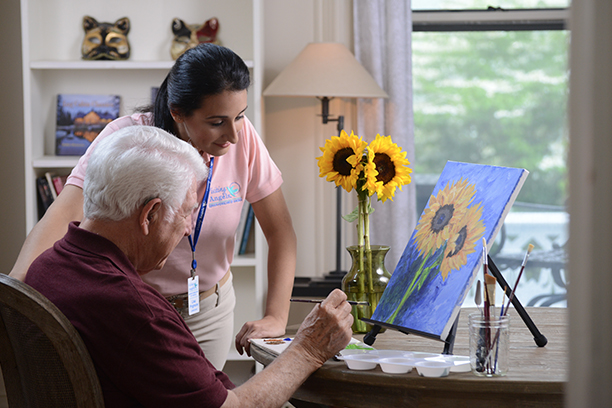 Why Visiting Angels Broomfield is the Home Care Agency of Choice
When you choose Visiting Angels, you are selecting a home care agency with extensive experience providing quality in-home senior care in Broomfield, Northglenn, Westminster and the surrounding areas of Colorado.
At Visiting Angels Broomfield, we go above and beyond to ensure that your loved one's golden years are spent independently at home. To accomplish this, we allow you to choose your caregiver from a large pool of qualified, dedicated professionals, we respect your time and work around your schedule, and we provide you with personalized senior care services of the highest quality. In addition, our home care agency will work tirelessly to ensure your loved one is receiving the support they need when they need it most and if needed, we will work with you to adjust their care plan to fit their ever-evolving needs.
You Are In Charge – We're On Your Schedule
You will be in charge of everything when you choose Visiting Angels Broomfield as your home health care provider. You will have the final say on the visit schedule and any necessary care plan changes. Our caregivers will ensure that your loved one is comfortable at home, based on their preferences and your instructions.
"We were more than pleased with Visiting Angels. On a Friday morning we were told we had to find care 7-7 for my mother-in-law until we could find placement from her Assisted Living to a nursing home as soon as possible. She was no longer safe by herself. By that afternoon, we were able to make the arrangements for the next day. For the family, this was an emergency situation that meant we needed to be able to leave my mother-in-law in good hands so we could find a nursing home. Because she also has second stage dementia, we were concerned about her being cared for 7-7 by a stranger for the three days we needed care. We should not have worried. We had two different women over the three days and each one was absolutely wonderful with my mother-in-law. Not only did they provide great compassionate care but they were alert to any issues that might be a concern. They truly were angels. The agency is also incredibly flexible. Our plans changed a couple of times and they rolled with "our" punches. I highly recommend Visiting Angels."
- Renee F.
We're a Bonded, Licensed and Insured Home Care Agency
Unlike other senior care options, all team members from our Broomfield office are fully employed, bonded and insured, just like any other member of our nationwide Visiting Angels family. Because a number of states' legislatures require licensing, it is our policy that franchised agencies have the necessary state licenses that allow for "hands-on" care. This will undoubtedly give your family peace of mind knowing that you are working with the best home care agency available.
We Believe Monitoring is Crucial
Through our system of ongoing personalized contacts, our home care agency continuously monitors caregivers. Because we want seniors in our care to receive only high-quality elder care services, we use telephone check-ins and home visits to communicate with them on a regular basis.
Custom-Tailored Care Plans for Every Senior
Older adults' care needs, like their personalities, can vary greatly. Every client, in our experience, has a unique situation and set of needs. That is why we take a personalized approach to care plans, tailoring our programs to your specific requirements.
Visiting Angels Broomfield can manage any level of care and support required by your family, from occasional respite care to full-time care in an assisted living facility. We also provide specialized programs for seniors with specific needs, such as palliative care for seniors looking for comfort and dementia and Alzheimer's care for seniors suffering from memory-related illnesses.
Because our care plans are flexible, you can change or upgrade your schedule at any time. Furthermore, we can collaborate with health or nursing professionals who are already caring for your loved one.
Contact our office today and learn more about our home care agency and how we help. Visiting Angels Broomfield is happy to be of service!
Serving Broomfield, Westminster, Northglenn and the Northern Denver Suburbs
Visiting Angels
BROOMFIELD, CO
350 Interlocken Blvd #110
Broomfield, CO 80021
Phone: 303-650-2881