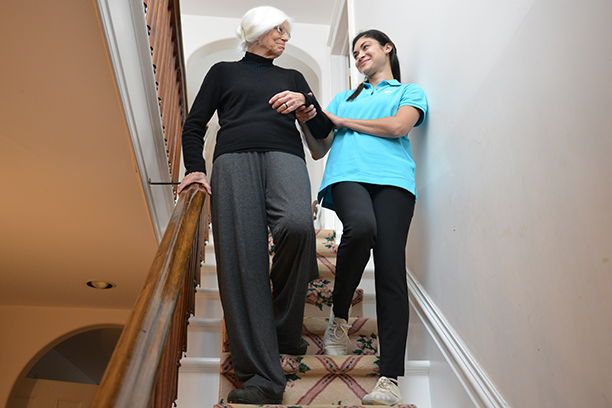 How to Identify the Signs of a Stroke
Providing care for seniors includes monitoring their wellness and being on the lookout for changes. Visiting Angels Broomfield encourages family members to know the signs of stroke and how to respond
Everyone responds to emergencies differently. When something unexpected happens, it is important to first recognize what is occurring and then determine how to best react. Stroke is one such unexpected event.
A stroke occurs when the blood supply to the brain is drastically reduced or totally blocked suddenly. Without a steady flow of blood, the brain is not getting the oxygen and nutrients that is needs to function. Stroke can result in brain damage that effects mobility, speech and cognitive function. While this is a serious - and potentially frightening - medical emergency, acting correctly and quickly can improve the outcome.
Quality Care for Seniors Must be Proactive
In order to know that a loved one is experiencing a stroke, it is important to understand the signs and symptoms.
The most common symptoms of a stroke include:
Face, arm or leg numbness and paralysis; commonly on just one side of the body
Trouble speaking including slurring and confusion
Blurred, blackened or double vision in one or both eyes
Headache that causes dizziness or vomiting
Difficulty maintaining balance
These symptoms are not exclusive to stroke. Your loved one may be experiencing balance and vision issues without a stroke occurring. If arthritis or circulation issues are already presence, some numbness and tingling in the hands and feet may not be startling either.
Because it can be difficult to know just from observation if your loved one is experiencing a stroke, there is a quick test you can perform to more accurately assess the situation. This simple 4-step test can help guide you through identifying symptoms, providing assistance, and relaying accurate information to emergency services.
Face - Facial paralysis, especially on just one side, is a unique symptom a stroke. Ask your loved one to smile; if one side of their mouth droops, they may be experiencing a stroke
Arms - Similar to facial paralysis, losing function of one arm is also unique to stroke. Ask your loved one to raise both arms out to their sides; if they are unable to raise both equally, it is likely they are experiencing a stroke
Speech - Have your loved one repeat a simple sentence; if they are unable to remember or struggle to form words clearly, it is likely they are having a stroke
Time - Call emergency services immediately if your loved one is experiencing one of more of these signs. Time is crucial when responding to stroke and can have a major impact on your loved one's potential recovery
Stroke Recovery Care at Home for Seniors in Broomfield and Surrounding Areas
If your loved one has recently had a stroke, finding the right home care provider is essential to their recovery. Your loved one's medical team will be able to tell you what type of recovery to expect, based on the severity of their stroke. Often times, stroke recovery care for seniors includes extensive assistance immediately after. As your loved one regains their strength, relearns cognitive and small motor function or adjusts to new limitations, help from a caregiver may not be as constant. Either way, initial professional support will be essential in your loved one's recovery.
Whatever your loved one's level of needs are following a stroke, Visiting Angels Broomfield is here to help with essential personal home care services that aim to help seniors recover after suffering a stroke. We can assist with all the daily activities of living required to help keep your loved one safe, comfortable, happy and healthy at home.
Please contact Visiting Angels Broomfield today to learn how we can help ease your loved one's transition home following a stroke.
Serving Broomfield, Westminster, Northglenn and the Northern Denver Suburbs
Visiting Angels
BROOMFIELD, CO
350 Interlocken Blvd #110
Broomfield, CO 80021
Phone: 303-650-2881