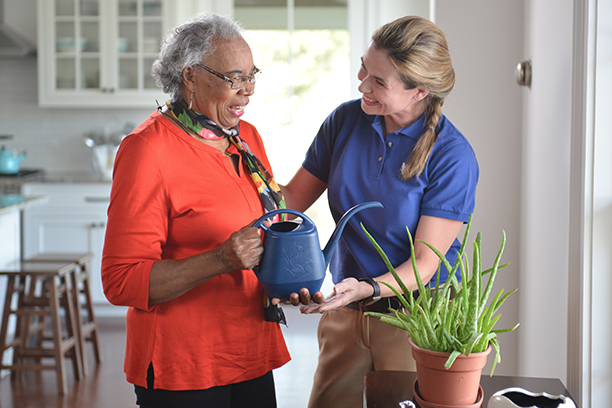 What is At-Home Senior Care and How Does It Help Families in Broomfield, CO and Surrounding Areas?
At-home senior care from Visiting Angels helps elderly adults in Broomfield, Northglenn and Westminster, CO get the support they need to live independently in their own homes
Over the years, Visiting Angels Broomfield has visited thousands of homes throughout the Northern Denver Suburbs and dealt with countless schedules, different situations and personalities and a multitude of care needs. If you've been searching for options for at-home senior care for your loved one, you can count on our team to provide the care and support your loved one needs with day-to-day tasks, managing symptoms of chronic illnesses and so much more.
Why Choose Visiting Angels Broomfield?
You may have been wondering what at-home senior care is exactly and how to choose a trustworthy agency and the right type of care for your loved one. With in-home care, seniors get the assistance and support they need without needing to move or relocate. For seniors who wish to remain independent, many would prefer to receive care at home over care in a residential facility such as a nursing home or assisted living facility. In addition, seniors won't have to change their schedule or adjust their everyday routines if they can get the support they need right in their own home. However, finding the right agency can be challenging. A good home care agency not only has experienced caregivers who know how to provide care for seniors, but also has caregivers who are passionate about the work they do and want to make a real difference in the lives of seniors living in their community.
At Visiting Angels Broomfield, we have the appropriate resources and years of experience to help you navigate through the decision-making process. With our extensive experience and team of professional caregivers, we can give your loved one the support they need to live out their golden years in comfortable and familiar surroundings.

To help you reach the best possible decision regarding your loved one's care, we take the time to get to know you, answer all your questions and provide you with useful information about our at-home senior care services. We understand that this may be an entirely new situation for your family and we want to help you smoothly transition into this chapter of your loved one's life.
Our caregivers can help your family by:
Consulting with you and your loved one about schedules and costs of care
Scheduling an in-home visit
Developing a personalized care plan
Coordinating a meeting with caregivers
Providing monitoring and ongoing, consistent communication with the family in order to adjust care plans and routines whenever needed
While most care requests are usually planned well in advance, we are capable of delivering our at-home senior care services as quickly as possible for those seniors and families who have urgent care needs due to an emergency situation or a late-day discharge from a medical facility.
Should there be a need, we can respond to requests for providing in-hospital assistance, additional bedside care in an assisted living facility or extra support for seniors who have just been released from a hospital or rehabilitation facility. Our experienced caregivers are also available to assist during major transitions such as moving to an assisted living facility or a family member's home.
To learn more about our at-home senior care services and how we can help Mom or Dad, make sure to get in touch with our Broomfield, CO office today. We can schedule a free in-home consultation where one of our friendly care directors will meet with you and your loved one in their home at a convenient time to discuss viable home care options.
Contact Visiting Angels Broomfield today. We look forward to working with you!
Serving Broomfield, Westminster, Northglenn and the Northern Denver Suburbs
Visiting Angels
BROOMFIELD, CO
350 Interlocken Blvd #110
Broomfield, CO 80021
Phone: 303-650-2881