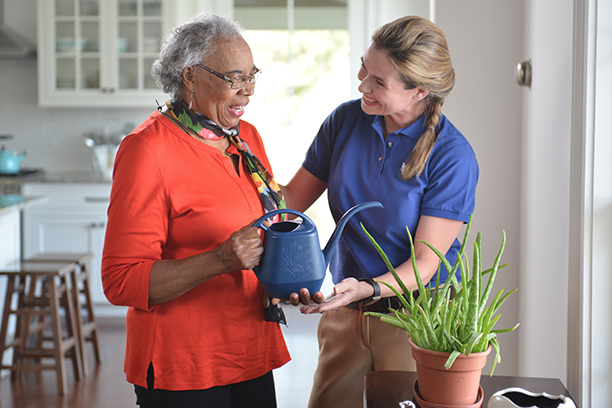 Comforting Palliative Care for Seniors in Edgewater, MD and Surrounding Areas
Our Certified Palliative Care Program provides all-around comprehensive home care to elderly adults in Edgewater, Bowie and Crofton, MD from professional at-home caregivers
Your elderly loved one might require a lot of assistance and support in order to safely and comfortably age in place, especially if they are ill or injured. But you may not have the knowledge or availability to give them the care they need, even though you have their best interests at heart. Fortunately, professional senior care from Visiting Angels in Edgewater, MD can help you make sure your loved one has everything they need to live out their golden years without feeling like they have to sacrifice their independence.
Palliative care is designed to provide comfort and improve the quality of life regardless of life expectancy. Both palliative and hospice care are used interchangeably and while the core of both terms is the same, hospice care is reserved for those who are nearing the end of their lives. With help from our at-home caregivers, you can be assured that your elderly loved one will be given the support that they need.
Our program is designed to approach care in a holistic manner, so you can have peace of mind knowing that your loved ones are provided with the assistance and comfort regardless of their life expectancy. We provide non-medical care and assistance to your loved ones that cover the different facets of their lives: social, emotional, physical and spiritual.
How the Certified Palliative Care Program Helps Seniors in Edgewater and Surrounding Areas
Our at-home caregivers can provide a wide range of care needs so that our clients will be able to have comfortable and meaningful in-home care. Below are the details of the services that they provide.
Physical care: Our caregivers can address the physical care needs of senior clients by providing personal care such as hygiene assistance, meal preparation and feeding. They can also recognize and respond to physical symptoms so that they can provide non-medical care to comfort them.
Emotional care: Our caregivers adopt a compassionate approach, especially to senior clients who are suffering from mental distress such as depression, anxiety, loneliness, stress and sadness.
Social care: We understand the need for your loved ones to connect with people; thus, we also provide social care so that they can communicate with their families using technology. More importantly, our caregivers can also provide companionship despite the absence of the immediate family members.
Spiritual care: We can address the spiritual needs of our senior clients by restoring hope and meaning into their lives despite their conditions. We treat each client with respect and dignity.
Getting Started with At-Home Caregivers from Visiting Angels Edgewater
If our Certified Palliative Care Program sounds like the best solution for your loved one, contact our Edgewater, MD office. We can connect you to our skilled and compassionate caregivers so that they can provide the care your loved one needs right away.
Serving Anne Arundel and Prince George's Counties, Including Edgewater, Crofton, Bowie and Surrounding Areas
Visiting Angels EDGEWATER, MD
3168 Braverton St Ste 400
Edgewater, MD 21037
Phone: 410-881-8405