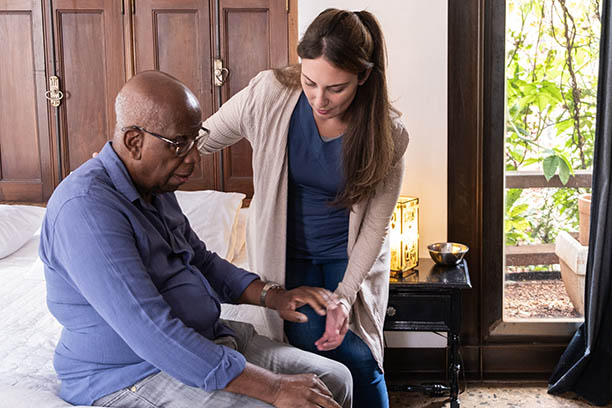 Comforting Palliative Care for Seniors in Edgewater, MD and Surrounding Areas
Learn how palliative care services from Visiting Angels provides comfort and support for older adults in Edgewater, Bowie, Crofton, Gambrills and surrounding areas in MD
Your elderly loved one may require a great deal of assistance and support in order to age in place safely and comfortably, especially if they are dealing with a chronic illness or recovering from an injury. Even though you have their best interests at heart, you may lack the expertise or availability to provide them with the care they need. Fortunately, in-home palliative care from Visiting Angels Edgewater can assist you in ensuring that your loved one has all they need to live out their golden years without sacrificing their freedom.
How Can Palliative Care Help My Loved One?
The goal of our palliative services is to give comfort and enhance quality of life for seniors in Prince George's and Anne Arundel Counties, regardless of their life expectancy. You may be certain that your senior loved one will get the care they need with the assistance of our in-home caregivers.
Visiting Angels Edgewater takes a comprehensive approach to palliative care, so you may have peace of mind knowing that your loved one is receiving the care they need in order to remain comfortable and content in their own home. We provide in-home care to help your loved one in all aspects of their life: social, emotional, physical and spiritual.
Here are some of the ways our caregivers can help your loved one:
Physical care: Our caregivers can address the physical care needs of senior clients by providing personal care such as hygiene assistance, meal preparation and feeding. They can also recognize symptoms of physical discomfort and provide an appropriate response.
Emotional care: Our caregivers can provide compassion and a sympathetic ear, which can be beneficial if your loved one is suffering from mental distress such as depression, anxiety, loneliness, stress and sadness.
Social care: We understand the need for your loved one to connect with friends and family; thus, our caregivers can help your loved one stay connected with the people in their lives via social media and similar tools. We can also provide companionship despite the absence of the immediate family members.
Spiritual care: We can address the spiritual needs of our senior clients by restoring hope and meaning into their lives despite their conditions. We will treat your loved one with the respect and dignity they deserve.
Our care plans can be personalized so your loved one can get the care they need when they need it most. We can provide palliative care for a few hours a day, a few days a week or for a longer period of time. We're also available to provide overnight care, 24-hour care and live-in care.
Call Visiting Angels Edgewater at 410-956-7771 to schedule an in-home consultation today!
Serving Anne Arundel and Prince George's Counties, Including Edgewater, Crofton, Bowie, Gambrills and Surrounding Areas
Visiting Angels
EDGEWATER, MD
3168 Braverton St #400
Edgewater, MD 21037
Phone: 410-956-7771
Fax: 410-956-7757