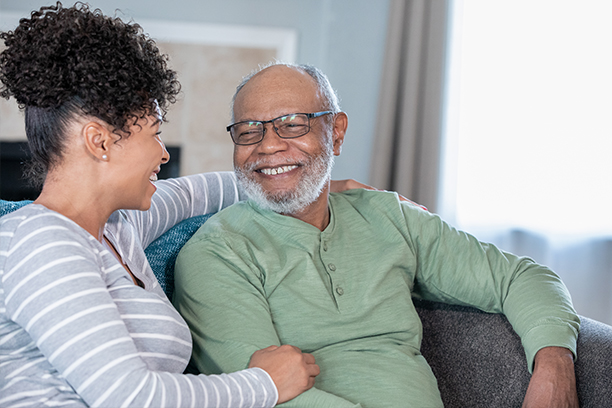 Live-In Personal Care Services for Seniors in Edgewater, MD and Surrounding Areas
Visiting Angels offers live-in personal care services for seniors in Edgewater, Bowie, Crofton and the surrounding areas of Maryland
Bringing a full-time caregiver into your loved one's home is a great option if they are managing a chronic disease, living with dementia or Alzheimer's disease or find themselves in need of immediate help. If your loved one has a stroke, experiences a fall or is battling cancer, they likely need a lot of day-to-day assistance. That's where live-in personal care services from Visiting Angels Edgewater can help.
As much as you want to help your senior loved one, it is nearly impossible to be with them constantly. Between work, family and personal obligations, as well as keeping up with your own wellness, it can be challenging to provide the daily living assistance your loved one needs.
Visiting Angels of Edgewater is one of the few local agencies in our area able to provide live-in care. We can place a qualified, reliable and friendly caregiver – or team of caregivers – in your loved one's home when assistance is needed. Caregivers can help with bathing and showering, personal care services, grooming, medication and fluid reminders, mobility assistance, monitoring, conversation and more.
3 Important Things to Know About Live-In Care from Visiting Angels Edgewater
1. Live-in Care is Different From Hospice
Live-in care is focused on supporting recovery and eventual independence. It typically complements the care plan of a doctor or physical therapist. As your loved one learns how to adjust to new physical or mental limitations, manages the side effects of an illness, or recovers from surgery, Visiting Angels caregivers are there to help.
Hospice care is typically medical care provided to those who have a limited life expectancy and aims to make that time as comfortable as possible. While Visiting Angels does not provide hospice care, our live-in personal care services complement hospice care, ensuring your loved one received comprehensive assistance at home.
2. Live-In Care Meets Physical and Emotional Needs
While the immediate physical needs of seniors are often top priority when it comes to providing 24-hour home care, these are not the only needs your loved one has. Simply taking medications or completing occupational therapy does not ensure total wellness. Our caregivers will provide the companionship, conversation and emotional support your loved one really needs.
A live-in caregiver will get to know your loved one's preferences, personality and routines. This will help them provide the type of care your loved one needs to truly thrive at home.
3. Our Caregivers Support Seniors and Their Family Members
When it comes to live-in care, Visiting Angels keeps families involved. Whether you live in Edgewater, Bowie, Crofton or the surrounding areas, we encourage families to stop in and visit as normal. Our caregivers will take care of your loved one's needs so that you can focus on spending quality time together.
If you would like to learn more about the personal care services we provide, please contact our Edgewater, MD office at 410-956-7771 today!
Serving Anne Arundel and Prince George's Counties, Including Edgewater, Crofton, Bowie, Gambrills and Surrounding Areas
Visiting Angels
EDGEWATER, MD
3168 Braverton St #400
Edgewater, MD 21037
Phone: 410-956-7771
Fax: 410-956-7757