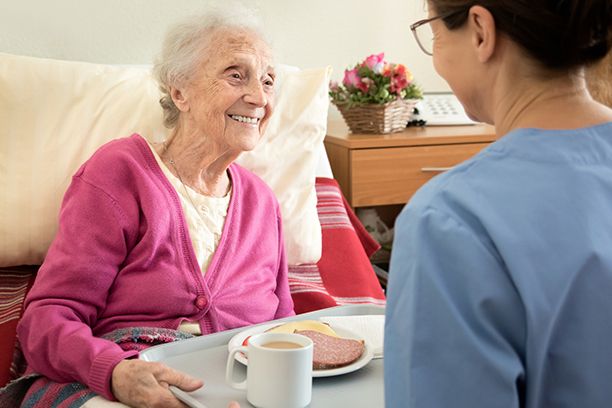 Respite Care in Gastonia, NC, and Surrounding Areas
Visiting Angels Gastonia part-time care allows family members time to take a break from caregiving responsibilities
When a senior parent or other relative starts to need some help around their home, it is often family members who assume the role of primary caregiver. You might find yourself helping your mom or dad with preparing meals, getting to doctor's appointments, and organizing medications for proper use. As their needs advance, you may find yourself overwhelmed by the responsibilities of your career, family, personal life and health in addition to caregiving. Respite care from Visiting Angels of Gastonia can assist with providing essential help for seniors.
Interim Home Care for Elderly Adults
Also known as part-time or relief care, respite care is a professional care service that relieves family caregivers of their duties temporarily to tend to other matters. This specialized type of care ensures that senior relatives receive the reliable, compassionate daily assistance they need even when family caregivers can't be there. Part-time care can serve as a safety net, a type of backup option for care in case of an emergency. If you are ill, out of town, or some other unexpected event occurs that interferes with caregiving, Visiting Angels caregivers can step in to provide personalized care for your loved one.
How Visiting Angels Provide Help for Seniors
Families in Gastonia, Cramerton, and the surrounding areas of North Carolina utilize respite care for a variety of reasons. For families caring for a relative with dementia or Alzheimer's disease, part-time care serves as an introduction to long-term care. Starting with care a few hours each day helps seniors become comfortable with their caregiver and accustomed to a new companion. As their care needs advance, seniors are comfortable asking for assistance from their trusted caregiver.
Respite care promotes self-care and personal wellness for family caregivers. Scheduling a few hours each week away from caregiving responsibilities forces family members to take a break, relax and recharge, and focus on other matters. By working part-time care into your weekly routine, you can prevent the build-up of stress and caregiver burnout.
Visiting Angels interim home care services include all of our senior care services, including personal care, companionship, dementia and Alzheimer's care, certified palliative care, hospital-to-home transitional care, and other kinds of in-home help for seniors. If your loved one is recovering from surgery, Visiting Angels will support their care plan to reduce the risk of hospital readmission. The physical and emotional support of a compassionate caregiver can truly improve your loved one's quality of life.
Contact Us Today!
To learn more about how Visiting Angels of Gastonia, NC, provides interim help for seniors, please contact our office today! Our care coordinators are happy to answer any questions you may have while working with you to find the best care solution for your senior loved one!
Serving Gastonia, Kings Mountain, Cramerton, Belmont, Mount Holly, Shelby and Surrounding Areas in NC
Visiting Angels Gastonia, North Carolina
102 Hidden Pastures Dr #202
Cramerton, NC 28032
Phone: 704-469-4207