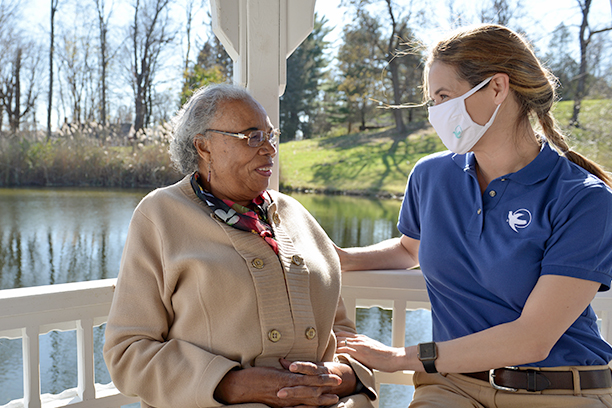 Alzheimer's Services Throughout Hot Springs, AR and Neighboring Communities
Visiting Angels Offers Comprehensive Alzheimer's Services for Seniors Who Want to Live Independently in Hot Springs, Hot Springs Village, Benton, and Surrounding Areas
At Visiting Angels of Hot Springs, we are proud to provide in-home Alzheimer's services clients to with cognitive decline. If your aging loved one has been diagnosed with Alzheimer's, dementia, or other degenerative cognitive diseases, our expert caregivers can provide the help your loved one needs to enjoy their best quality of life every day.
How Visiting Angels of Hot Springs Can Help Seniors with Alzheimer's Disease
Alzheimer's is the most common form of dementia. It impacts cognitive skills like decision making, critical thinking, memory, and social skills. Our services can help manage symptoms over time because Alzheimer's is also a progressive disease.
Care services from a Visiting Angel can include help with everyday tasks:
Light Housekeeping, laundry, and linens changing
Meal preparation
Getting the mail
Participating in hobbies or sharing a conversation over a cup of coffee
It can also include more intensive assistance:
Mobility and transferring
Transportation to medical appointments or day centers
Personal care including bathing, grooming, and toileting
Creating Healthy Routines
For clients with cognitive diseases, one key to care is creating a daily schedule and sticking to it. The routine we help your loved one establish increases feelings of security while also establishing healthy habits like sticking to your medication schedule, regular meals, and getting regular rest. Our Alzheimer's services are designed to support holistic health, including emotional and social support, so that your loved one can truly enjoy their golden years.
Our caregivers for those with Alzheimer's Disease can also coordinate with your loved one's medical care providers to make sure that daily routines incorporate any medical needs your loved one might have. That means we can help your loved one stick to dietary guidelines from their doctor, physical therapy regimens, attending medical appointments, and more.
Learn More
If your loved one has been diagnosed with Alzheimer's, dementia, or another cognitive disease, they do not have to immediately move into a live-in facility. Help keep them comfortable at home for longer with Visiting Angels of Hot Springs. Call today at 501-222-3493 to learn more about how our Alzheimer's services can help your family in Hot Springs, Hot Springs Valley, Benton, Bryant, or the surrounding area.
Serving Hot Springs, Hot Springs Village, Benton, and the Surrounding Area
Visiting Angels HOT SPRINGS, ARKANSAS
320 Ouachita Ave #312
Hot Springs, AR 71901
Phone: 501-222-3493