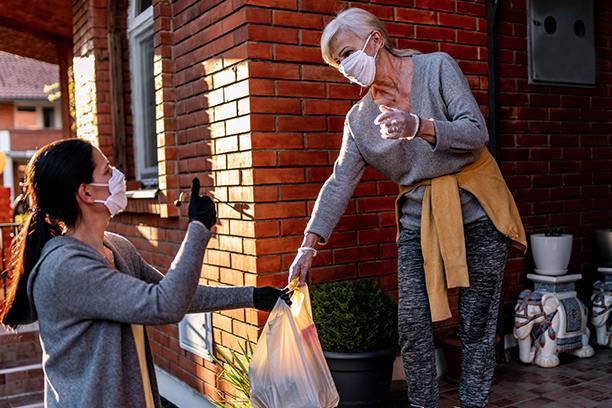 Find Answers to Common At-Home Care Questions in Hot Springs, AR, and Surrounding Cities
While researching at-home care, you might wonder what services are available and how the process works. At Visiting Angels, we provide top quality care for our local friends and neighbors in Hot Springs, Hot Springs Village, Fountain Lake, and surrounding areas in Arkansas. When you choose us, your elderly loved one can remain at home, enjoying their independence and daily routine, while getting the personalized care they need. Visiting Angels of Hot Springs answers your frequently asked questions.
What Does It Mean to "Age in Place"?
Seniors who choose to "age in place" remain in their homes, rather than moving into a facility or retirement residence. Aging in place means remaining independent and maintaining your unique lifestyle while growing older. Seniors often want to stay in their familiar setting among the neighbors and friends they love. Visiting Angels of Hot Springs at-home care enables clients to remain at home while getting help with daily tasks that may have become too difficult.
What Services Does Visiting Angels of Hot Springs Provide?
Visiting Angels of Hot Springs offers a wide range of at-home care services to seniors with specialized needs and to seniors who need help with activities of daily living (ADLs).
Our services and programs include:
Do You Provide Services in Assisted Living Facilities?
Yes! Occasionally, our clients move into live-in facilities and realize that the care does not completely meet their needs, especially if the facility is at maximum capacity. A caregiver from Visiting Angels of Hot Springs can be present around-the-clock or for just a few hours a day to provide supplemental personal care and attention.
Can I Change My Schedule If Something Comes Up?
Yes. Please give one-week notice to change your at-home care schedule. We make the schedule work for your family. We will do everything possible to accommodate your requests.
Can I Change My Care Plan or My Caregiver?
We will modify your care plan as needed, when health conditions change. We do our best to match the most compatible caregiver with your loved one. Although, if you believe the match is not quite right, you can request a different caregiver at any time, for any reason. Our priority is to provide the best possible at-home care for your loved one.
How Do We Start? When Can We Start?
We start with a free, no-obligation assessment within your loved one's home. We will then identify caregivers who have the skills, personality, and availability to assist you. You can then meet the caregiver, and if it is a good fit, they will begin working for you. Visiting Angels of Hot Springs can typically begin providing services within 48 hours of the initial consultation. In some cases, services can start the same day.
Get Started with Visiting Angels of Hot Springs Today
If you are in Hot Springs or the surrounding area and would like to learn more about our at-home care options, contact at Visiting Angels of Hot Springs by clicking one of the buttons below.
Serving Hot Springs, Hot Springs Village, Fountain Lake, and the Surrounding Area
Visiting Angels
HOT SPRINGS, ARKANSAS
320 Ouachita Ave #312
Hot Springs, AR 71901
Phone: 501-222-3493