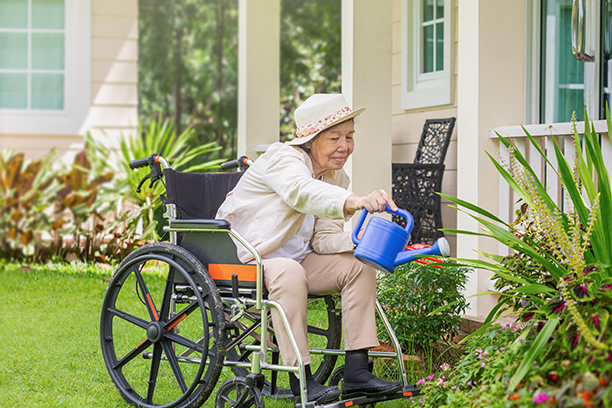 End of Life Care Throughout Hot Springs, AR and Neighboring Communities
End of life care helps both individuals and families cope with the physical and emotional distress that comes with a limited life expectancy diagnosis. Our team of compassionate in-home care providers offers physical and emotional assistance to your loved ones to make sure they are as comfortable as possible in their final days.
Visiting Angels Provides Compassionate Support Through Our End of Life Care Services to Residents of Hot Springs, Hot Springs Village, Benton, and Surrounding Areas

The end of life cycle is entirely natural; however, it is also completely natural for individuals to have a tough time coping with losing a loved one. Many seniors prefer to live out their final days from the comfort of their own homes, making finding a reliable and trustworthy home care provider a top priority.
At Visiting Angels of Hot Springs, our goal is to help your loved ones remain in the safety and comfort of their own home for as long as possible. We will help with all the daily household in-home care tasks that may have become too much for your family. We also want to enrich your loved ones' lives by connecting with them on a personal level through meaningful conversation and companionship. More than anything, we want to be there for our clients and their family members every step of the way to help throughout the end of life care process.
What Is End of Life Care?
When a loved one is diagnosed with a disease or condition that limits life expectancy, they often require additional support to help cope with the condition's pain or other symptoms. In many cases, these in-home care responsibilities fall on close family members who have difficulty balancing these newfound responsibilities with their work, family, and friends. Family members often become burnt out while seniors feel neglected or like a burden on those closest to them. Visiting Angels of Hot Springs offers fully comprehensive and compassionate care to help both the individuals and their families handle this difficult process.
How We Can Help
At Visiting Angels of Hot Springs, we provide personalized elder care that is tailor-fit to the needs of your loved ones.
Here are some of the several ways we aim to help seniors during their final days:
Minimize pain and other symptoms
Assist with personal tasks such as dressing, bathing, and daily hygiene
Alleviate feelings of loneliness, stress, and anxiety
Our caregivers also assist with the essential household duties that most seniors with terminal illnesses cannot perform, such as bathing, clothing, or running errands outside of the house. Our caregivers aim to help provide an anchor of physical and emotional support for the entire family throughout the end of life care process.
Care Options for Limited Life Expectancy
At Visiting Angels of Hot Springs, we realize that your loved ones' needs are unique and can change at any moment, which is why our care plans are both highly custom and flexible. We work directly with families to help them select the perfect care plan to fit their loved one's needs. We offer highly specialized care plans that help seniors manage a wide range of conditions like Hospice, COPD, Diabetes, CHF, and more. Families can also update their loved one's care plan at any moment as we realize the needs of your loved one will change over time. We look at our relationship with our clients as a partnership and do everything in our power to make our working relationship as easy as possible.
Contact Visiting Angels of Hot Springs Today
If your family needs assistance during the trying time of an aging loved one experiencing their final days, do not hesitate to reach out to Visiting Angels of Hot Springs by clicking one of the buttons below.
Schedule your free, in-home care assessment at your earliest convenience to get started with our end of life care services.
Serving Hot Springs, Hot Springs Village, Fountain Lake, and the Surrounding Area
Visiting Angels
HOT SPRINGS, ARKANSAS
320 Ouachita Ave #312
Hot Springs, AR 71901
Phone: 501-222-3493