Homecare Benefits During COVID-19
The COVID-19 pandemic has changed family availability to care for senior or disabled loved ones. In many cases, the family caregiver is now tasked with not only caring for a senior, but also with monitoring children's online learning while working full-time from home.
If there was ever a time in history when calling in reinforcements was necessary, now is the time. Homecare for your loved one is the answer. How can Visiting Angels homecare services help?
Prevent the Virus
Visiting Angels caregivers can help prevent your loved one from exposure to the virus. We train our caregivers in all precautions recommended by the Centers for Disease Control to avoid the spread of the virus upon entry and once in the home. Some of these strategies include wearing a face mask, removing shoes upon entry into the home and disinfecting commonly touched areas around the home, such as doorknobs and remote controls.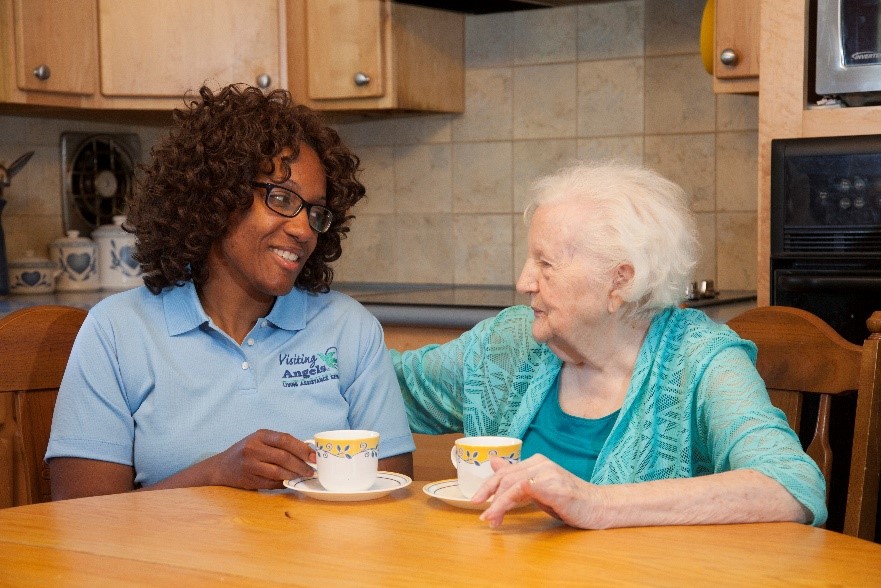 Companion Care Services
Companion Care Services assist with many tasks helpful during this COVID-19 pandemic. Some examples include:
providing meaningful companionship during a time of social distancing and quarantine
ordering groceries, disinfecting them, and putting them away upon delivery thus eliminating the need to enter a grocery store
running errands for the homebound senior only when going out into the community is necessary, such as picking up medications
ongoing light cleaning and laundry to ensure the home environment remains hygienic
activities of daily living including grooming, bathing, and dressing assistance conducted with the utmost dignity and respect
preparing nutritious meals since dining out is limited
preventing hospitalization due to dehydration or medication error
providing respite to a family caregiver
Physical Activity and Fall Prevention
A single fall can result in a broken bone, surgery, and a prolonged hospitalization. Given COVID-19, senior loved ones are currently unable to attend their usual exercise classes. Therefore, they are at risk for deconditioning, loss of muscle strength and a subsequent fall. Visiting Angels offers the Safe and Steady Fall Prevention Program which is specifically designed to help seniors avoid such an accident. The most important goal right now is to keep our senior loved ones out of the hospital. The specialized training of our caregivers in the Safe and Steady Fall Prevention Program can help do just that.
Remote Socialization
Visiting Angels caregivers have the unique capacity to help seniors get and stay connected electronically through the Social Care Program. Modern technology offers an array of options for seniors to socialize from home. Our caregivers can coach seniors through how to operate technology in the following ways:
verbally by learning how to operate a smart phone
in writing through text message or email
face-to-face using video chat platforms, such as Facebook Portal, Zoom, Skype or Amazon Echo Show
COVID-19 has created the unprecedented need to limit physical interaction with senior loved ones while trying to maintain daily life tasks. A Visiting Angels caregiver can act as a bridge by completing day-to-day housekeeping tasks and facilitating physical activity to avoid deconditioning or falls. Homecare also provides companionship and opportunities for remote socialization using technology. If you are interested in how Visiting Angels homecare can help your senior loved one, visit our website or call 501-321-4900 for a free consultation.