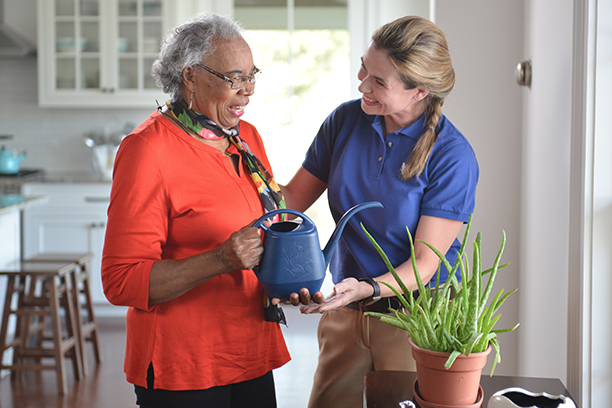 Compassionate At-Home Senior Care in Gilford, NH, and Nearby Areas
When deciding on care, you'll undoubtedly want a provider that you can trust. In fact, it's crucial to hire reliable assistance as these caregivers will be coming to your home to tend to your loved one. Visiting Angels of Gilford understands how this is a challenge for families. Fortunately, our caring staff always prioritizes seniors, ensuring the personal well-being, security, and safety of every elder in our at-home senior care. We understand and appreciate that it can be stressful looking for someone to provide at-home senior care to you or someone you love. You want someone who you can trust and who will build a comfortable friendship with you or your loved one.
Visiting Angels' At-Home Senior Care Provides Compassionate Care to Seniors in Gilford, Laconia, Wolfeboro, Moultonborough, and Surrounding Areas
Rest assured, when you come to us for help, we are ready to assist in any situation. So, if your aging mother has mobility issues and needs help going to appointments or if your senior father has dementia and requires a compassionate caregiver, our support will ease your mind. They're in good, trustworthy hands when you use our services for at-home senior care.
Character Is Important to Us
When you strive to care for elder clients, you also care about the character of those who provide that service. Our focus is always on seniors and what they require to live a happy, healthy life while aging in place. As such, our vision encompasses the integrity and character of each and every support staff. From a secretary to an office manager to a caregiver, we expect nothing but the most sympathetic of characters. No matter who you interact with at our office or your home, rest assured that both your family and loved ones will be well-cared for.
We Prioritize the Character-First Philosophy
We adhere to a strict character-first philosophy when interviewing potential caregivers. In short, it's essential that any staff member, even those who don't interact with seniors, shares our visions and values. As such, we only hire individuals who display caring qualities and traits, such as patience, kindness, responsibility, and dedication. In fact, the character-first approach has proven to be one of the main reasons why we're America's most reliable elder care agency. With Visiting Angels of Gilford, you're guaranteed affordable, compassionate at-home senior care for your loved ones.
Finding The Right Care Provider
Ultimately, we aim to find the right caregiver, a provider that can not only meet the needs of their senior client but surpass them as well. We do so by encouraging family members and elders to view possible candidates. By using Select Your Caregiver®, you have a personal say in who is chosen as the perfect match for your family.
Visiting Angels of Gilford's at-home senior care is easy to get started with! Call us today for a free assessment conducted in the comfort of your own home.


Serving the Lakes Region of New Hampshire and surrounding towns
Visiting Angels
LAKES REGION, NH
401 Gilford Ave #208
Gilford, NH 03249
Phone: 603-366-1993