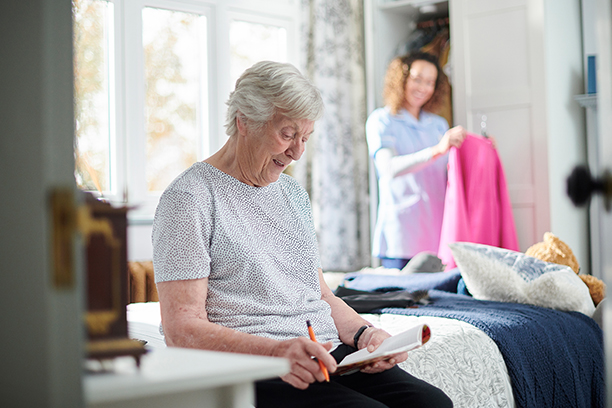 Why Seniors In Gilford, NH and Nearby Areas Choose Visiting Angels
Our goal at Visiting Angels of Gilford is to make home care as positive of an experience as possible. How do we do this? To begin with, we ask family members and clients to take part in the caregiver selection process. By choosing your own senior care provider, Visiting Angels of Gilford takes the mystery out of finding the ideal support aide. As such, families can pick from a wide selection of skilled caregivers, thus allowing them to continue living their daily routines. We're pleased to provide you and your loved one with truly personalized services.
Visiting Angels Offers Exceptional Senior Care on Your Schedule in Gilford, Laconia, Wolfeboro, Moultonborough, and Surrounding Areas
We're here to help your family every step of the way – but you're the boss! In the end, you decide on the care schedule, including meals, bathing, and wake-up time. We want to ensure your loved one is comfortable in their own home. Therefore, we'll adjust to their schedule without exception. With our home care agency, you're guaranteed the best senior care.
Insured, Licensed, and Bonded
At Visiting Angels, we fully insure, license, and bond all the caregivers on our team. Since certain states require licensing, it is our policy that those senior care agencies have the proper state license that authorizes "hands-on" care. As trustworthy care providers, you can rest assured that your loved one is in good hands.
The Key Is Monitoring
Our unique system of personalized care brands us as a home care agency that genuinely respects their elderly clients, always considering their needs. Continuous monitoring is the key to our quality care, and we keep very close contact with our caregivers. Through home visits and phone call check-ins, our system ensures your loved one is always regularly contacted by our offices. The best quality of care for the elderly is our aim – and our senior recipients appreciate it.
Specialized Care for Your Elder
As no two individuals have the same needs, our home care is truly specialized. Whether you require additional support at an assisted living facility, full or part-time in-home or in-hospital care, or respite care for your family, we can find the ideal, skilled care provider for your beloved family member. The best part is our care programs are as flexible as you need them to be, so you can change your schedules and care options whenever the need arises.
To learn more about Visiting Angels of Gilford's services, please click one of the buttons below! Our staff will be happy to answer any questions and schedule a free, in-home assessment.


Serving the Lakes Region of New Hampshire and surrounding towns
Visiting Angels
LAKES REGION, NH
401 Gilford Ave #208
Gilford, NH 03249
Phone: 603-366-1993