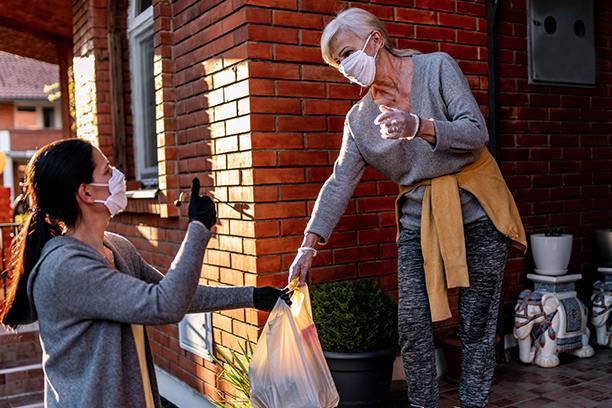 Home Health Aides Provide Certified Palliative Care in Gilford, NH
Visiting Angels' Home Health Aides Offer Certified Palliative Care to Seniors in Gilford, Laconia, Wolfeboro, Moultonborough, and Surrounding Areas
Improve the quality of your loved one's life by opting for palliative care, designed to address a wide variety of needs. When families hear the term "Palliative Care," they often have a distinct image in their mind. Typically, "hospice care" and "palliative care" are terms used by many interchangeably. Yet, there are several differences between the two services.
While they both have several similarities, palliative and hospice care have slightly differing approaches. Nonetheless, at their very heart, they both revolve around bringing the patient comfort, all while improving quality of life. However, hospice care tends to refer to those seniors who are nearing the end stage of their life. Palliative, traditionally, does not focus on life expectancy per say. Rather, its goal is to give care to increase well-being and comfort.
Our certified palliative care program, part of our assisted living home care, is rooted in the more traditional approach and model of palliative senior care. Our home health aides use non-medical, specialized assistance and care to enrich the quality of life for older adults.
Certified Palliative Care Program
Our mission: to assist with healing and restore hope with our assisted living home care. To do so, our focus takes a broader perspective, care needs that include the emotional physical, spiritual, and social well-being of all patients.
Emotional Well-Being: We support the elderly by employing a compassionate approach to care, helping seniors who may be suffering from loneliness, stress, depression, or anxiety.
Physical Well-Being: Our home health aides recognize and respond to common signs often seen with seniors and assist them by providing non-medical care to our elderly clients.
Spiritual Well-Being: We restore hope to the elderly and their families, addressing their spiritual needs by helping them find relief and comfort from the many difficulties associated with aging. First and foremost, our home health aides treat our seniors with respect and dignity, no matter their background.
Social Well-Being: We build relationships with our elderly clients and their families, ensuring caring conversation and compassionate companionship to those in our assisted living home care.
Getting Started with Assisted Living Home Care
With Visiting Angels assisted living home care, you will find the care you need for your loved one who requires palliative care. Call us today to get more information on our many care services, home health aides, as well as book a meeting with our care coordinator to assess your senior's care needs.
Serving Lakes Region of New Hampshire and Surrounding Towns
Visiting Angels
LAKES REGION, NEW HAMPSHIRE
401 Gilford Ave STE 208
Gilford, NH 03249
Phone: (603) 215-7103