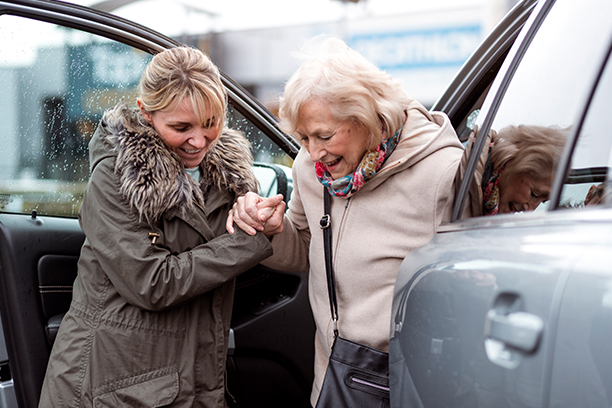 Virtual In Home Assistance in Greater Gilford, NH
Constant Companion Is Our Virtual In Home Assistance Program for Seniors in Gilford, Laconia, Wolfeboro, Moultonborough, and Surrounding Areas
As seniors age, it can become difficult for them to remain independent at home all on their own. Whether it's due to a medical condition, limited mobility, difficulty seeing, or another condition, keeping care of oneself as a senior can be a challenge. At Visiting Angels of Gilford, we believe aging adults should be able to remain independent and live wherever they call home. Which is why we have implemented the virtual in home assistance program Constant Companion to keep your elderly loved one independent, safe, and comfortable at home, even when they're alone!
What Is Constant Companion?
Constant Companion is our virtual in home assistance program that helps seniors remain independent and safe when no one is around to lend a helping hand. This program utilizes the virtual AI assistant, Alexa, to help seniors engage with games, music, audio books, and other enrichment activities. Alexa can also help them communicate with friends and family by sending messages and making phone calls for your loved one, allowing them to communicate anywhere throughout their home.
Call for Help
The biggest benefit of Constant Companion is its Call for Help feature that gives families reassurance that their loved one is safe and secure. Our Constant Companion team is available 24/7 for emergencies and our response are three times quicker than other panic buttons. While there is no replacement for in home care, virtual in home assistance is a great relief for many caregivers when they can't be there for their loved one. With Alexa by your loved one's side they will never be without a helping hand, especially in the direst of situations!
Telehealth Visits
Constant Companion can also help your loved one with doctor's appointments with the Q Tablet! This feature helps seniors with their medical needs through telemedicine visits within their homes. This service allows seniors to access easy and mobile access to a wide range of medical providers like:
Live Health Online

Plushcare

Teledoc

Doctor on Demand

The Cleveland Clinic Express Care Online
Other Virtual Care Options
If you have a loved one who is diagnosed with Alzheimer's or dementia, Visiting Angels of Gilford also offers Generation Connect. Generation Connect is a virtual in home assistance option that includes a series of apps to engage with dementia patients and reduce anxiety, communication challenges, and boredom in clients. There's plenty of mental stimulation that can be done with this service such as personalizing playlists, creating photo and video albums, memory games, and more!
Learn More Today
Contact Visiting Angels of Gilford today if your aging loved one in Gilford, Laconia, Wolfeboro, Moultonborough, or the surrounding area is struggling to remain independent on their own. We can go over our virtual home care solutions and discuss our in home senior care, as well!
Serving the Lakes Region of New Hampshire and surrounding towns
Visiting Angels
LAKES REGION, NH
401 Gilford Ave #208
Gilford, NH 03249
Phone: 603-366-1993