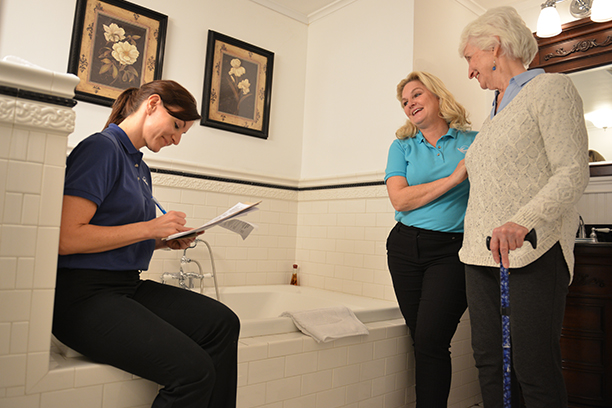 About Visiting Angels of Lewisburg, PA
Visiting Angels provides quality one-on-one care services to seniors in Lewisburg, Danville, Lockhaven, Sunbury, and the surrounding areas.
At Visiting Angels of Lewisburg, we are happy that our community upholds the small-town qualities that have drawn families, business owners, entrepreneurs, and retirees to Lewisburg for years. Visiting Angels of Lewisburg is glad to assist your loved ones in maintaining their freedom whether they have decided to age in place here in Lewisburg or the surrounding area because they have relatives nearby or have grown to enjoy the area.
For years, Visiting Angels of Lewisburg has provided senior care in Lewisburg and the surrounding area. We hire experienced caregivers from the community to ensure that they are as aware as you are about local medical providers, community facilities, and entertainment. Our caregivers are thoroughly trained, licensed, bonded, and insured, and they receive continual professional development to ensure that we are providing care in line with current best practices.
Outside-the-Home Care
When you choose in-home senior care, you are not opting for a life of confinement for your loved one. Our care plans include activities that promote emotional, social, and mental health, such as a visit to the Senior Citizens Center or a stroll through the Packwood House Museum. Your loved one may access all of their favorite sites or activities with the assistance of your Angel's mobility and reliable transportation.
How are we qualified?
Because our caregivers and coordinators always have your family's best interests at heart, our agency is a trusted senior care supplier for locals. That is why we provide plans and services that can tailor to your loved one's specific needs. You'll have the peace of mind of knowing that your loved one is secure and well at home, and you'll see that you're only paying for the time and care you require. Our care plans are affordable and flexible to fit your needs.
Our agency provides the highest-quality care from the community's most knowledgeable and trustworthy caregivers. We match customers with caregivers based on their skill and experience, as well as personality qualities, hobbies, and interests, to ensure that your loved one and our caregiver have a positive, respectful connection.
If you are caring for a loved one in Lewisburg, our skilled experts can assist you. To learn more about our personalized care plans, call our agency at 570-768-4747.
Serving Williamsport, Lewisburg, Danville, Lock Haven, Sunbury and the Surrounding Areas
Visiting Angels
LEWISBURG, PA
4650 Westbranch Hwy #110
Lewisburg, PA 17837
Phone: 570-768-4747