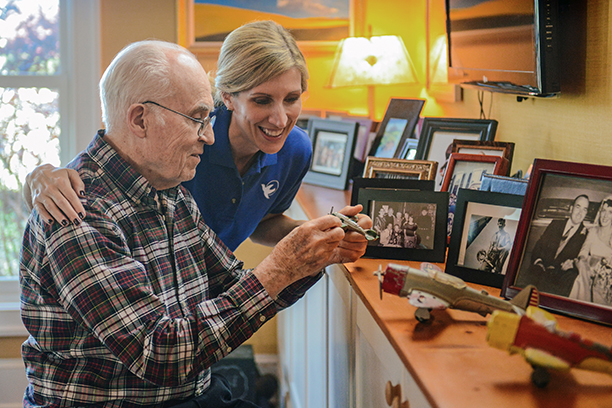 Helping Seniors Age in Place with Live-In Care
Visiting Angels Offers Live-In Care Services for Seniors in The Greater Susquehanna Valley Area

Families often worry for senior loved ones who decide to age in place. If you are worried about your loved one but want to support their decision, you are probably looking into different senior care solutions.
Your first thought might be to become your loved one's caregiver. However, not everyone has time to take on the caregiver role. You could be busy with work, children, and other responsibilities. Luckily, becoming your loved one's caregiver is not the only solution.
You can look into hiring a home care provider. Visiting Angels of The Greater Susquehanna Valley offers various home care services including respite care, 24/7 care, and live-in care. Live-in care is a great home care option that more families should be aware of.
Information About Live-in Care
Live-in care is when a professional Visiting Angels caregiver stays in an elderly client's home to provide the necessary at-home assistance. The type of care a senior receives depends on the elderly client's care plan, so every client will receive the support they require for their individual needs.
When learning about live-in care, it is also important to keep in mind that a live-in caregiver stays in a client's home, but they do not work 24/7. More often than not, one of our professional caregivers will work during the weekdays. Then, during the weekends, another Visiting Angels caregiver will take over a client's care and continue to provide the necessary support.
In addition, a professional caregiver must receive an 8-hour break every 24 hours, have access to a bed, and they must get at least 5 hours of sleep every night. When caregivers take care of their needs they can provide their clients with the best care possible.
Live-In Care Vs. 24/7 Care
If you have been looking for information about live-in care, you have most likely come across a type of home care called 24/7 care. The two types of care sound like they would provide the same or similar types of services, but what is the difference?
With 24/7 care, multiple caregivers switch shifts every eight hours. Since there are multiple caregivers, there is always a caregiver who is awake and ready to care for the elderly client. This care can be especially helpful for elders who need help with various tasks in their daily lives, for seniors who need help at night, or for clients who wander. Furthermore, 24/7 care costs more than live-in care.
Getting Started with Visiting Angels of The Greater Susquehanna Valley
We, at Visiting Angels of The Greater Susquehanna Valley, strive to provide compassionate and reliable home care services! To learn more about our live-in care services send us a message today. You can also call us at 570‑768‑4747.
Serving Williamsport, Lewisburg, Danville, Lock Haven, Sunbury and the Surrounding Areas
Visiting Angels
LEWISBURG, PA
4650 Westbranch Hwy #110
Lewisburg, PA 17837
Phone: 570-768-4747