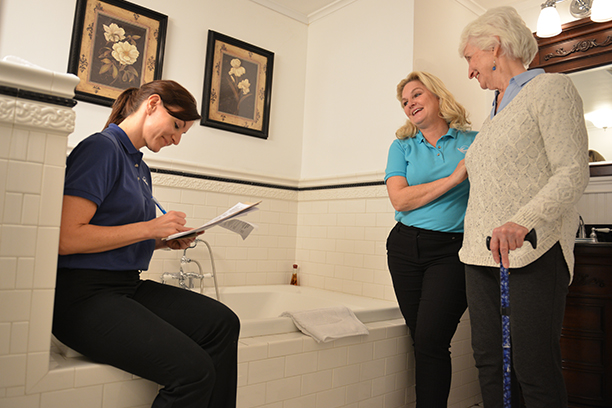 Senior Caregivers Alzheimer's Care in Lewisburg, PA
Visiting Angels senior caregivers provide comfortable care to the elderly in Lewisburg, PA, and the surrounding area
According to the Alzheimer's Foundation of America, 5.1 million Americans may have Alzheimer's disease, a deadly brain disease that causes a gradual loss of memory, thinking, and reasoning abilities. A diagnosis of Alzheimer's disease can be terrifying and sad for a person and their loved ones, but there are specific actions you can do to help yourself and your loved ones get through it.
While there is no cure for Alzheimer's, treatments and therapies can help patients and caregivers cope with the disease's symptoms and improve their quality of life. If you suspect your loved one is experiencing Alzheimer's symptoms, it's critical to act quickly by getting them to a doctor and putting in place a comfort care team and strategy if a diagnosis is made.
Alzheimer's Disease Symptoms
Memory loss causes problems in everyday life: forgetting about recent events, names, where things go, and other new information.
Planning or problem-solving difficulties: Having difficulty following a known recipe or keeping track of monthly payments, difficulty concentrating, or taking significantly longer than usual to complete tasks should be regarded seriously.
Completing routine duties at work or home becomes complicated.
Alzheimer's patients can lose track of dates, seasons, and the passage of time.
Look for difficulty reading, judging distance, or detecting color or contrast as signs of trouble interpreting visual pictures and spatial relationships.
Word issues in speech and writing have arisen: All symptoms are finding the right words, finishing phrases, and following orders and discussions.
Losing the ability to retrace steps and misplacing things: People with Alzheimer's disease may misplace items or accuse others of theft.
Increased melancholy, fear, anxiety, distrust, quick and prolonged mood swings, withdrawal, and disinterest in typical activities are all signs of a change in mood or personality.
If your loved one exhibits any of these symptoms, it is critical that they be assessed by a professional and tested for Alzheimer's disease. Alzheimer's disease is not a normal part of aging, and it should not be confused with simple forgetfulness. Each person may suffer one or more of these symptoms to varying degrees, but as Alzheimer's disease progresses, these symptoms become more noticeable and chronic.
Receiving help after a diagnosis of Alzheimer's Disease
If a doctor diagnoses Alzheimer's disease, the more proactive you are in making decisions about caring for someone with Alzheimer's, the better. If you or someone you know has been diagnosed with Alzheimer's disease, here are a few simple actions to take:
Learn everything there is to know about the illness. You can be better prepared if you know more. The Alzheimer's Foundation of America and the Alzheimer's Association are two excellent sites.
Take care of your finances, legal matters, and long-term care preparation. Discuss future care wishes and end-of-life concerns.
Stimulate your mind. Music, word puzzles, and memory games can help patients and caregivers relax and have a good time.
Arrange for expert comfort care and respite. Even if you are eager and capable of being the primary caregiver for an Alzheimer's patient, you will require assistance at some point, even if it is only for a short period. Furthermore, it is advantageous to introduce a professional caregiver while a person is still in the early stages of Alzheimer's disease because changing routines become more complex and stressful as the condition advances. When seeking comfort care assistance, look for someone who has Dementia Care Professionals of America training or expertise working with dementia patients
Make a network of people who will help you. Caring for someone with Alzheimer's disease can be exhausting and stressful. Find people to talk to, ask for support, and make time for your own physical and emotional well-being. Many local hospitals, aging services departments, and websites like the National Family Caregivers Association and Caring.com provide free support groups for caregivers.
Contact Visiting Angels of Lewisburg, PA
Know that you are not alone if you or a loved one has been diagnosed with Alzheimer's or another dementia. Call Visiting Angels of Lewisburg, PA today or request Alzheimer's care here to learn more about comfort care options in Lewisburg and the surrounding areas.


Serving Williamsport, Lewisburg, Danville, Lock Haven, Sunbury and the Surrounding Areas
Visiting Angels
LEWISBURG, PA
4650 Westbranch Hwy #110
Lewisburg, PA 17837
Phone: 570-768-4747