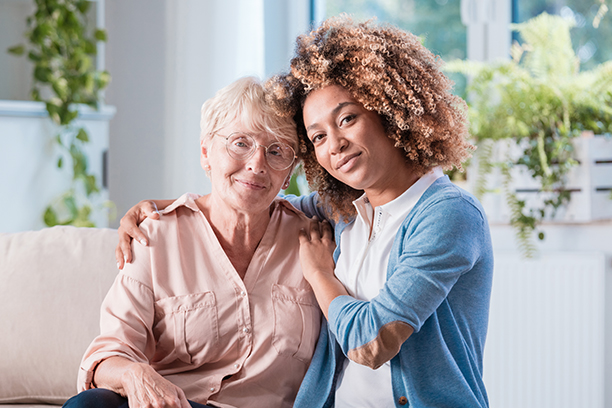 Certified Palliative Care in Lewisburg, PA and Surrounding Areas
Visiting Angels Offers Certified Palliative Care to Seniors in Lewisburg, Muncy, Williamsport, Danville, and Nearby Cities
No matter how old we get, all of us still have the need to feel connected with others, engaged with our own sense of spirituality and excitement about new activities or old favorites. At home care from Visiting Angels of Lewisburg provides opportunities for all our clients to access the resources, events, hobbies, and professional services that are needed to care for the whole person. We believe that each of our clients deserve the best possible quality of life, which is why we are dedicated to our holistic approach to care.
The Difference Between Palliative and Hospice Care
While you might hear the terms palliative and hospice care used interchangeably, these terms refer to two different types of services. Both focus on pain reduction and an improvement in quality of life, however, hospice care is reserved for end-of-life services, while palliative care can help seniors with a diverse range of needs, no matter their life expectancy.
Holistic Care that Focuses on Physical, Emotional, Social, and Spiritual Needs
When you work with Visiting Angels of Lewisburg, you will coordinate with our team to build a holistic and customized care plan that considers your loved one's specific physical, emotional, social, and spiritual needs. Our palliative care focuses on increasing the comfort and well-being of our clients, especially when your loved one is faced with challenging health, mobility, or ability circumstances. Clients with chronic health conditions or chronic pain can especially benefit from this renewed focus on holistic care.
Flexible Care Services
Certified Palliative Care is part of our Life Care Navigation services. Life Care Navigation does include end of life services, which can provide your loved one and family with comfort care and assistance throughout the end of life process; but we can also help your loved one with companionship care, personal care, social care, and more throughout their golden years.
Our palliative care is designed to restore dignity, hope, and healing in every aspect of your loved one's life. Our caregivers listen to your loved one's specific needs and preferences, whether that is transportation to a specific church service or helping them access a movie or musician who reminds them of their younger years. Depression, loneliness, stress, and anxiety can all have major impacts on health and our care is designed to combat these stressors along with alleviating other everyday needs.
Contact Visiting Angels of Lewisburg
If you are concerned about the health or decline of a loved one in Lewisburg or the surrounding areas, Visiting Angels of Lewisburg can help. Call us today at (570) 768-4747 to learn more about our Life Care Navigation program and approach to whole health.
Serving Williamsport, Lewisburg, Danville, Lockhaven, Sunbury and the Surrounding Areas
Visiting Angels LEWISBURG, PA
4650 W Branch Hwy #110
Lewisburg, PA 17837
Phone: 570-661-4646