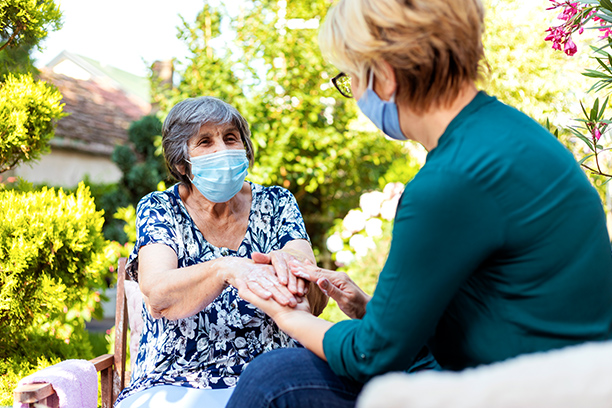 Certified Palliative Care in Lewisburg, PA and Surrounding Areas
Visiting Angels Offers Certified Palliative Care to Seniors in Lewisburg, Muncy, Williamsport, Danville, and Nearby Cities
We all have the urge to feel connected with people, involved with our sense of spirituality, and excited about new hobbies or old favorites, no matter how old we get. All our clients who get at-home care from Visiting Angels of Lewisburg have access to the resources, events, hobbies, and professional services that are required to care for your senior. We think that every one of our clients deserves the highest quality of life possible, which is why we are committed to providing comprehensive treatment.
Palliative and Hospice Care: What's the Difference?
While the terms palliative and hospice care are frequently used interchangeably, they relate to two distinct types of services. Both focus on pain relief and improved quality of life, but hospice care is designated for end-of-life services. In contrast, palliative care can assist seniors with various needs, regardless of their life expectancy.
In holistic care, physical, emotional, social, and spiritual needs are all addressed.
When you work with Visiting Angels of Lewisburg, you'll collaborate with our staff to create a comprehensive, personalized care plan that considers your loved one's unique physical, emotional, social, and spiritual requirements. Our palliative care focuses on improving our customers' comfort and well-being, which is especially important when your loved one is dealing with health, mobility, or ability issues. This renewed focus on holistic care might benefit clients with chronic health issues or chronic pain.
Adaptable services
Our Life Care Navigation offerings include Certified Palliative Care. We can help your loved ones with companionship, personal, social, and more throughout their golden years. Life Care Navigation does include end-of-life services. End-of-life services provide your loved one and family with comfort, care, and assistance throughout this challenging process. However, we can also help your loved ones with companionship, personal, social, and more throughout their golden years.
In every element of your loved one's life, our palliative care is aimed to restore dignity, hope, and healing. Our caregivers pay attention to your loved one's requirements and preferences, whether it's providing transportation to a specific church service or assisting them in finding a movie or musician that reminds them of their youth. Depression, loneliness, stress, and anxiety may all negatively impact one's health, and our services are meant to address these issues and other daily needs.
Visiting Angels of Lewisburg is here for you!
Visiting Angels of Lewisburg can assist you if you are concerned about a loved one's health or deterioration in Lewisburg or the surrounding areas. To learn more about our Life Care Navigation program and approach to whole health, give us a call at (570) 768-4747.

Serving Williamsport, Lewisburg, Danville, Lock Haven, Sunbury and the Surrounding Areas
Visiting Angels
LEWISBURG, PA
4650 Westbranch Hwy #110
Lewisburg, PA 17837
Phone: 570-768-4747