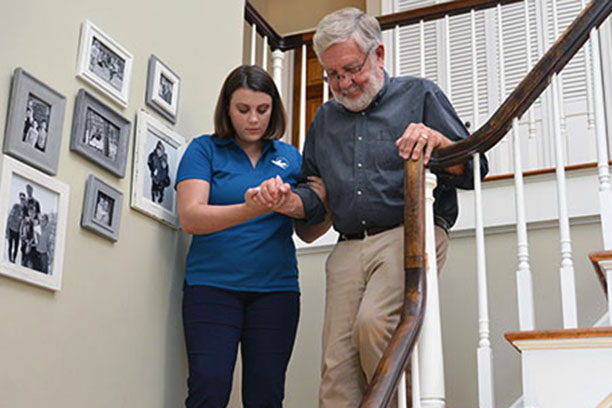 Senior Care Providers Assist with Fall Prevention
Visiting Angels Senior Care Providers are Available in Williamsport, Muncy, Lewisburg, Selinsgrove, Danville, Bloomsburg, and the Surrounding Areas
In addition to inflicting bodily harm, falls may have an emotional and social effect on a person. In the end, a fall may have a substantial impact on a person's quality of life. Unfortunately, seniors often avoid leaving home, refuse social invitations, and miss key family activities due to their fear of falling. Anxiety, loneliness, social isolation, unhappiness, and depression may result from this habit.
Falls can change your life
What makes falls so dangerous? Here are a few recent discoveries about the detrimental effects of falls:
Every year, one in three older adults falls, and one in every five has a significant injury such as a fractured hip, fracture, concussion, or other damage.
Those who have fallen before are more likely to fall again.
Every year, over 800,000 people are hospitalized due to a fall.
Recovery in a long-term senior care facility might take up to a year, and many individuals who fall never return home.
Falls do not happen by chance
One or more risk factors are generally to blame for a fall. A risk factor is anything that enhances the likelihood of a person falling. A physical condition, a medical ailment, or the home environment might all be risk factors. Risk factors include arthritis, poor vision, taking many medicines, dehydration, and a lack of grab rails in the bathtub. Many falls may be avoided if risk factors were identified and addressed early.
Fall and injury prevention is a significant concern for the elderly. Visiting Angels caregivers are investing in teaching older persons, their families, senior caregivers, and service providers about strategies to avoid falls is critical for our clients' long-term quality of life.
If you have a loved one in the Greater Susquehanna Valley that is a fall risk or is in danger of harm when left alone, contact Visiting Angels. Our knowledgeable senior care coordinators may arrange for a free in-home care evaluation to identify the best next steps for keeping your loved one safe.
Get your free Safe and Steady Fall Prevention Resource Guide now.
Serving Williamsport, Lewisburg, Danville, Lock Haven, Sunbury and the Surrounding Areas
Visiting Angels
LEWISBURG, PA
4650 Westbranch Hwy #110
Lewisburg, PA 17837
Phone: 570-768-4747