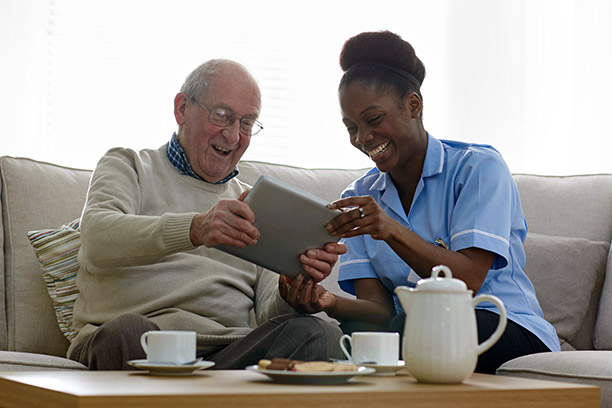 Alzheimer's Home Care Services for Aging Adults in Livermore, CA, and Surrounding Areas
An Alzheimer's or dementia diagnosis for a loved one may be devastating news for the entire family. You may think they have to uproot their lives and face the inconvenience of living in a fancy institution apart from their loved ones. You may be concerned about their health and the symptoms they may suffer. Our personal home care services may let your loved one remain in the comfort of familiar surroundings for as long as possible. We at Visiting Angels Livermore are here to be your partner through it all.
Our Alzheimer's home care is tailored to address all concerns you and your family may have due to your loved one's diagnosis and illness progression.
Advantages of Providing Alzheimer's Home Care for Aging Adults in Livermore, CA, and Nearby Cities
Even though your loved one may be experiencing the effects of Alzheimer's disease, the condition is still manageable, and every day may be a good one. Your loved one will have access to emotional, mental, and social support from a trained caregiver and one-on-one attention.
Our Alzheimer's home care services are created to make your family member feel more secure in their own home. Your family member will feel more confident and at ease with receiving care in the familiar surroundings of their home.
Programs Covering Every Aspect of Alzheimer's Care
Clients in Livermore and the surrounding regions of California may turn to Visiting Angels Livermore for a wide range of senior care services.
With the assistance of a reliable caregiver, your loved one may get help with the following:
Support with food preparation, medication reminders, and mobility issues

Medical and therapy appointment transportation
Help with day-to-day tasks such as mild cleaning, laundry, and linen changing
Memory care for those with dementia, Alzheimer's, and other cogitative disorders
As your loved one's Alzheimer's disease progresses, we may provide all these care options as part of our Alzheimer's home care services.
Our Caregivers
Visiting Angels Livermore takes great pride in the expertise of our elder care team. Clients are paired with caregivers who seem like a good fit regarding caregiving style, personality, and values. With the help of a compassionate caregiver, your loved one may become more involved in maintaining a healthy lifestyle.
Visiting Angels Livermore is here to assist you in providing your loved one with the highest standard of care. Our experienced caregivers will work with you to monitor your loved one, communicate with their doctors, and provide care to keep them secure, happy, and healthy.
Learn More About Visiting Angels
Contact Visiting Angels Livermore today to learn more about our Alzheimer's care services and how we can help your loved one remain in their home. We would love to get you started with a free in-home consultation today.
Call our senior care agency today to learn how was can assist you or your loved one with our Alzheimer's home care services!


"When my wife was diagnosed with Alheimer's five years ago I decided to care for her myself. But after a while I realized that I needed an occasional break and looked for agencies that provided that help. Visiting Angels had the highest rating in Livermore so I contacted them. I couldn't have been more pleased with my interaction with their staff. They assigned someone who came twice a week for four hours. My wife loved how friendly and caring the person was. I could not have been more pleased. I eventually had to move on to memory care but I will always remember how helpful they were to me and my wife." - Bill S.

Serving Livermore, Brentwood, Discovery Bay and the Surrounding Areas
Visiting Angels
LIVERMORE, CA
179 Contractors St.
Livermore, CA 94551
Phone: 925-443-1000