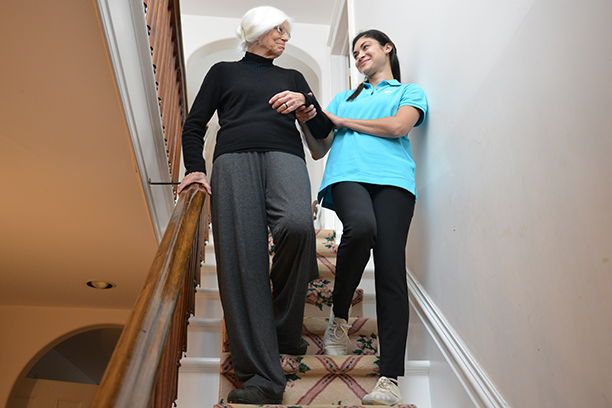 In-Home Supportive Services in Livermore, CA, and the Nearby Areas
It is crucial to ensure that elderly patients have a smooth transition go back to their homes and daily routines after hospitalization. That is why Visiting Angels of Livermore offers in-home supportive services to seniors who are about to be discharged from the hospital.
Medicare patients are readmitted to the hospital at a rate of around 20% during the first month after being released. Seniors have a reduced likelihood of recovery if they are readmitted to the hospital during the first 30 days after being discharged.
In-Home Supportive Services Help Seniors in Livermore, CA, and the Surrounding Areas Avoid Hospital Readmissions
The elderly who have just returned home from the hospital may rely on the in-home supportive services provided by Visiting Angels of Livermore. The goal of our Ready-Set-Go Home program is to aid and assist elderly patients as they return home from the hospital in good health, along with making sure they do not have to be readmitted.
What We Can Do to Help You Stay Out of the Hospital
Adherence to medical advice is the single most important factor in avoiding hospital readmission. After an accident or sickness, however, even the simplest of activities may become difficult for older people. It might be quite challenging for elderly people to carry out their physicians' recommendations without some kind of support.
Ready-Set-Go Home is here to ensure that your loved one has access to all of the resources they need throughout their rehabilitation. Furthermore, we recognize that no two people have identical home care requirements. For this reason, we personalize all of our in-home supportive services for your family member to meet his or her unique requirements.
How Visiting Angels Keeps a Loved One Home from the Hospital in Three Easy Steps
At the Hospital
Getting your loved one ready to go home from the hospital is the first step in the Ready-Set-Go Home process. Our caregivers are here to help both your loved one and your family with our in-home supportive services. We can help you understand the discharge procedure and provide you with advice on how to prevent your loved one from having to be readmitted when the time comes.
At the Your Loved One's Home
After being released from the hospital, our trained staff will assist your family member in continuing to live a healthy lifestyle. When you need a break from being a family caregiver or just can't be there for your loved one, we will. We also assist with keeping your loved one safe and making sure they take their prescription at the right time, as well as understanding the underlying causes for any deviation from the prescribed course of care.
At Our Office
Visiting Angels of Livermore is committed to being by your side during your loved one's rehabilitation. Knowing which patients are at the greatest risk of needing to be readmitted allows us to work with them to minimize or eliminate future hospitalizations. We may also provide transportation to medical appointments and help your loved one remember to take medications.
Find Out More About Visiting Angels of Livermore
Contact Visiting Angels of Livermore about our in-home supportive services if a family member or friend is currently hospitalized but is expected to be released soon.
Visiting Angels of Livermore is here to help if you or a loved one needs the support of a caring caregiver.


Serving Livermore, Brentwood, Discovery Bay and the Surrounding Areas
Visiting Angels
LIVERMORE, CA
2600 Kitty Hawk Road #107
Livermore, CA 94551
Phone: 925-443-1000